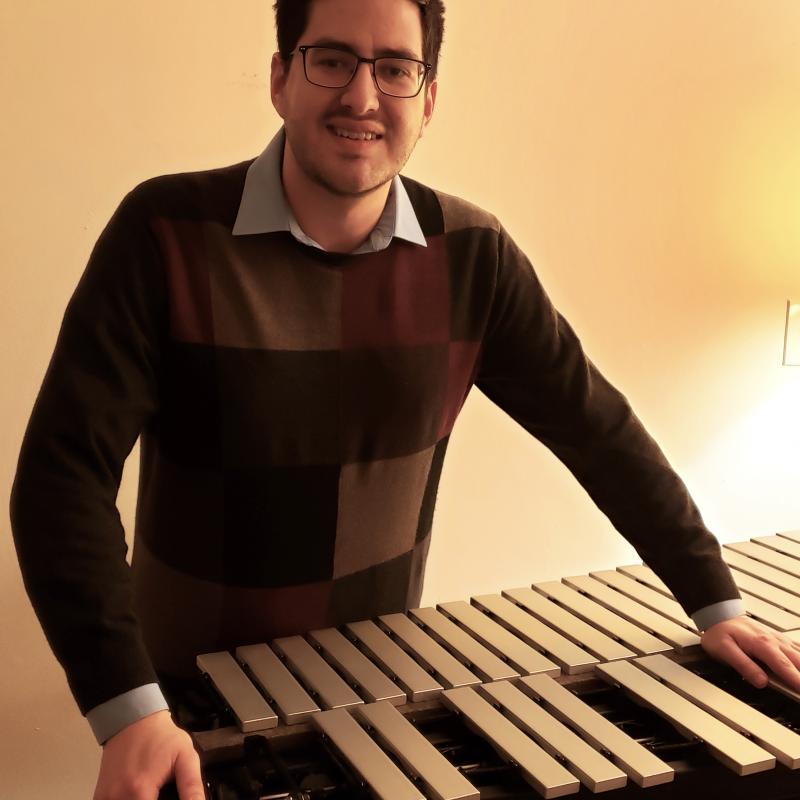 I chose Marimba One because of their unparalleled quality. The attention to detail on all of their instruments is world class, and I am honored to support such dedication to craftsmanship.
Caleb DeGroote is the Co-President and Principal Percussionist of the Rockville Brass Band, an international award winning British-style ensemble.  He is also an active competitive soloist and arranger.
Music performance, education, and competition have always played a large role in his life.  Since his first teaching position with the Naples High School Marching Band in 2006, Caleb has taught a total of 30 competitive seasons over 14 different scholastic programs, with these ensembles competing in the New York State Field Band Conference, New York State Percussion Circuit, Tournament of Bands, Bands Of America, US Bands, and Winter Guard International.
Caleb spent nearly a decade in the Drum Corps activity, beginning his career with the Rochester Crusaders in 2008.  After playing vibraphone in Drum Corps International with The Citations in 2009, he spent four seasons (2010–2013) with the Empire Statesmen instructing the front ensemble.  While with the Empire Statesmen, he arranged Kaduodal's 2011 percussion music, helping them achieve a bronze medal in Drum Corps Europe.  In 2014, he was the percussion caption head and front ensemble arranger for Windsor Regiment.  For the 2015 and 2016 seasons, Caleb DeGroote was the front ensemble instructor of Fusion Core.  His ensembles have placed in the top five in DCA / DCI / DCE eight times.
As a soloist, Caleb has won the Mid-Atlantic Brass Band Festival's solo percussion competition twice, in 2016 and 2018.  At the North American Brass Band Association Championship solo percussion competition, Caleb finished 3rd in 2017 and 1st in 2018.
Caleb is a a Sponsored Percussion Educator with Innovative Percussion Inc. and a Sponsored Artist with Soultone Cymbals, Inc.  He holds a B.A. in Music and Political Science from Binghamton University, where he studied percussion with Dan Fabricius.  He also holds an M.A. in Diplomacy from Norwich University.