In pursuit of the perfect sound, we worked with mallet percussionists for many years to learn what qualities they expected most from their "go-to" mallets. To meet these needs, we decided to design all of our own mallet heads, as well as invent and patent our own mallet wrapping machine that simultaneously wraps two individual pieces of yarn - wool or synthetic. This gives us the ability to individually control the tension on each of the yarns and the angle of the wrap. As a result, we have crafted some of the best mallets in the world ideally suited for keyboard percussion.
By varying the tension of each yarn during the winding process, choosing wool or synthetic fibers, and selecting the wrap style, we are able to create an endless number of sound options. Our M1 Mallets for marimba and vibes are offered in four distinct series: Signature Artist Series, the original Double Helix™ Series, the beloved Wave Wrap™ line, and our very popular lightweight mallet with warmth and articulation - the Round Sound™.
Guarantee: All M1 Mallet heads are guaranteed to stay attached with normal use.  If not, we'll replace the entire pair - For Life.  
Protect Your Mallets! Use the M1 Mallet Bag
Mallets Series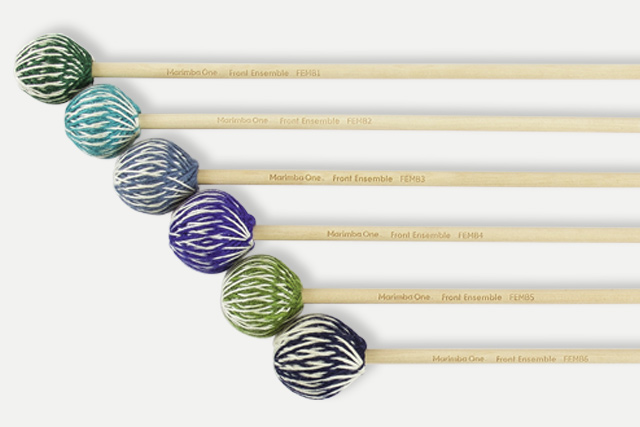 Specifically designed for indoor or outdoor use on marimba, this new series of mallets was created to achieve the best sound quality possible on both rosewood and synthetic bars. A well-balanced series, made with our proprietary molded cores and wrapping techniques, they will bring out the clarity on runs, the fundamentals of every note, and the lush subtleties when playing soft rolling passages.  This is a very durable series of mallets made to withstand the rigorous environments of the front ensemble.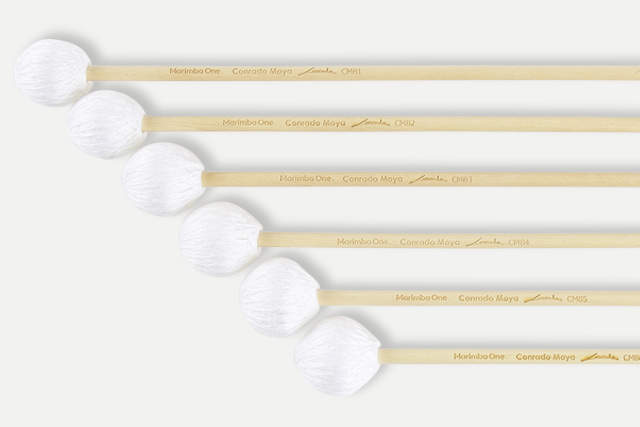 Consisting of six models with varying hardness's. This series was designed to obtain the maximum projection of sound and range of overtones.  With its heavy weighted core and tight tension in its yarn, they achieve clear articulation with a very warm texture, even with the hardest mallets.
Designed especially to be played with big orchestras, choirs, and percussion ensembles they are also delicate enough to be used in the most intimate chamber music and solo works – The amount of articulation and dynamics are unlimited.  Available in birch handles only.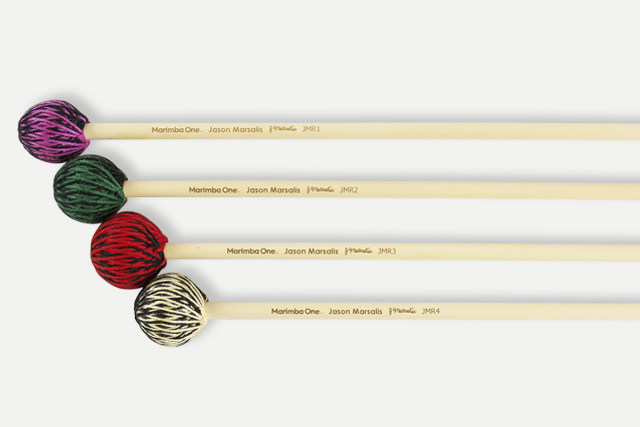 Our first set of mallets designed specifically for vibraphone.  Jason's mallets represent the history of the great musicians who influenced him including Lionel Hampton, Milt Jackson, and Bobby Hutcherson to name a few.  Available in four varying models with rattan handles. 
JMR1 - These hard mallets are great for playing in groove settings. If vibes are required in a rock or funk band, these mallets work great in these situations
JMR2 - These medium hard mallets are very diverse. They can work for swing, big band, and small groups with a diverse setting of music
JMR3 - Excellent for ambient music.  A subtle attack for very soft playing but enough attack for when you want the notes to be more present for a relaxed sound
JMR4 - Great for ballads and soft up-tempo playing.  These mallets have an extremely subtle attack when needed in quiet situations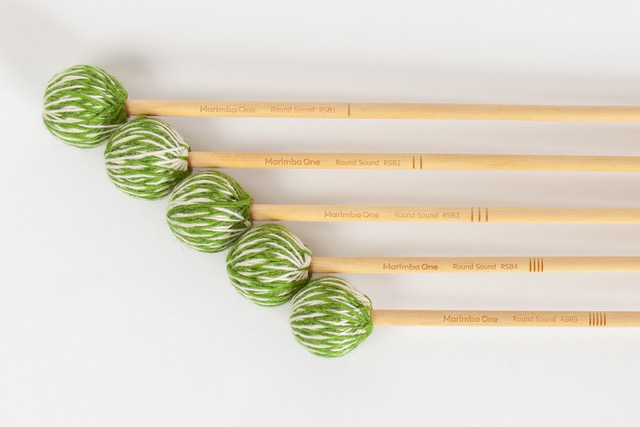 Our Round Sound™ mallet delivers warm sound quality at an affordable price. The lightweight mallet articulates the entire range of the marimba keyboard. Double-wound using M1's exclusive technology, the series is now offered in five varying models. Available in both birch or rattan handles.
Introducing the NEW Medium Hard (RS2) and Medium Soft (RS4) to complete the series!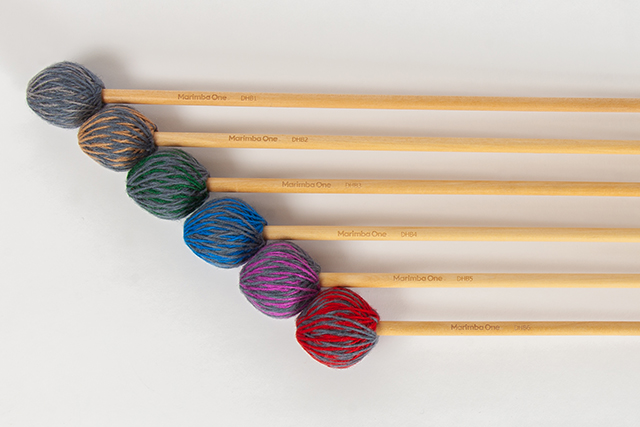 The Double Helix™ is a mid-weight line that brings out the warmth of fundamentals throughout the range of the marimba. The mallets combine one nylon yarn and one wool yarn wrapped with relaxed tension. Offered in six varying models, this line is available in both birch or rattan handles.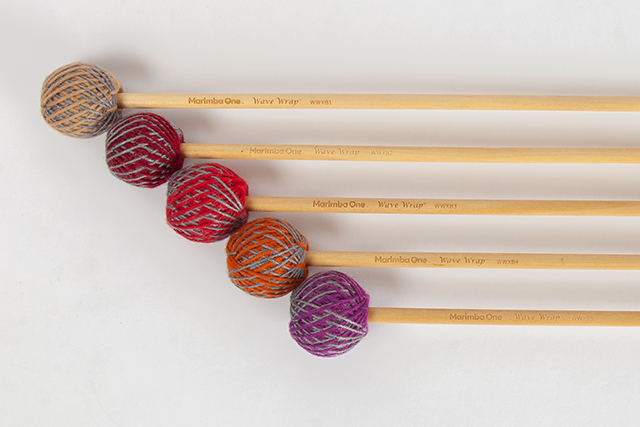 The chevron pattern around the Wave Wrap™ mallet head combines a blend of nylon and wool yarn that evokes maximum warmth and articulation. The highest concentration of yarn is wrapped around the mallet's "equator", creating an increased striking surface making this mallet the most responsive throughout the entire range of the keyboard than any other mallet. Exclusively unique, these mallets sound very warm and resonant in the bass end and yet clear and articulate in the treble end. We offer the Wave Wrap™ in five varying models and is available in both birch or rattan handles.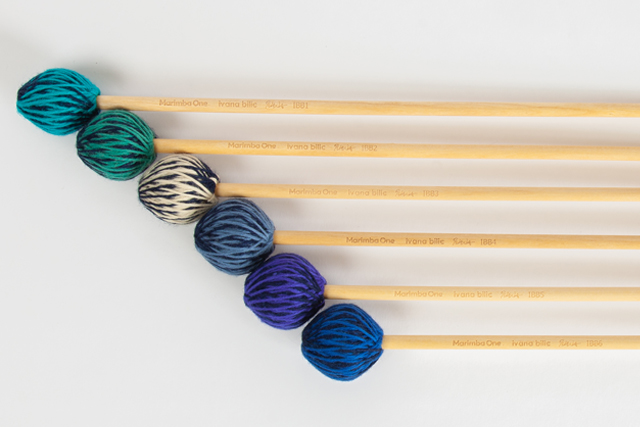 The Ivana Bilic Signature Series was developed to emphasize the singing characteristic of the marimba by relating the sounds that each mallet makes to human vocal qualities. In describing her mallets, Ivana has created a scale that utilizes the language of vocal range and timbre. Her definitions for each mallet combine the ideal playing range for a mallet with the color/timbre of its sound. Note: The scale follows a hard to soft progression, but loosely, as hardness alone is not enough to define each mallet.
Ivana's series consists of five wool/synthetic yarn mallets and one wool/wool yarn mallet. The wool yarn warms the sound, the synthetic yarn provides articulation. This is a mid-weight series with six varying models and is available in both birch or rattan handles.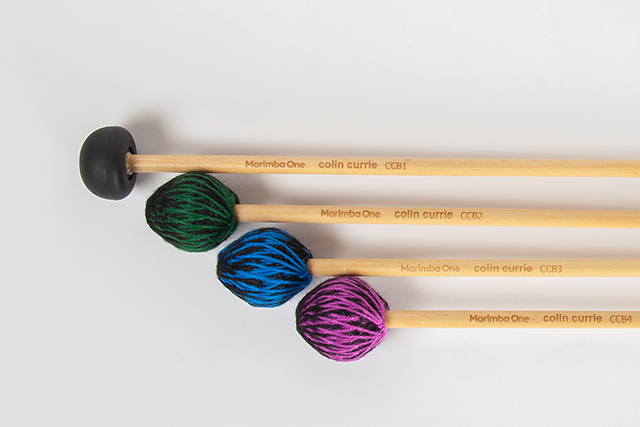 The Colin Currie Signature Series was created as a simple and straightforward mallet line, representing a focused, polished approach to sound. This is a light weight series with flexibility in feel and touch to give access to the entire dynamic range of the keyboard. Colin's versatile mallets encourage spontaneity, as each can be used with great force or delicacy without any unsatisfactory change in timbre. This series contains four models, featuring one unwrapped mallet and three wrapped mallets. All available in both birch or rattan handles.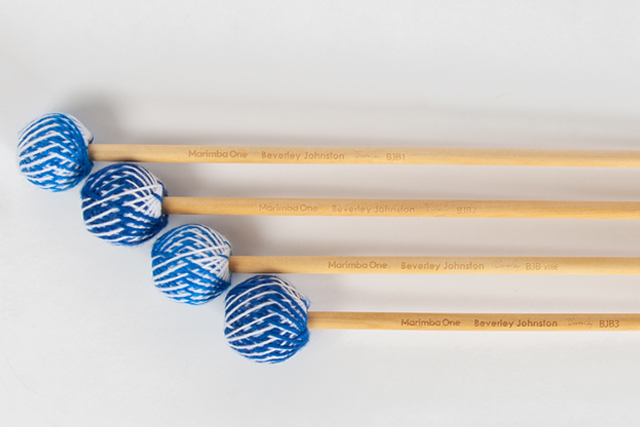 The NEW Beverley Johnston Signature Series is extremely versatile and works well on both vibraphone AND marimba. Utilizing the Wave Wrap technology they are perfectly weighted and balanced. These mallets were designed to provide a full sounding vibraphone-specific pure clean tone quality and yet also versatile enough to be played on marimba, including all styles from contemporary, to classical, and jazz. Offered in four varying models, they are available in birch or rattan handles.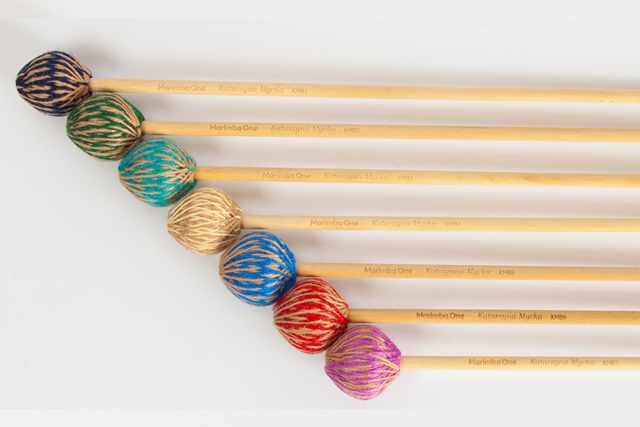 The Katarzyna Mycka Signature Series was developed to project maximum sound in orchestral and ensemble settings. Each of these weighted mallets is wrapped very tightly with two strands of synthetic yarn. The heads, tightly wrapped in Nylon, provide excellent articulation, while the heavy weight yields an immediate response from the keyboard that is required for ensemble and orchestra playing. This heavier weighted mallet brings out the warmth of the marimba by physically activating the fundamental frequencies in the bars. Katarzyna's series consists of seven models in varying hardness, available with both birch or rattan handles.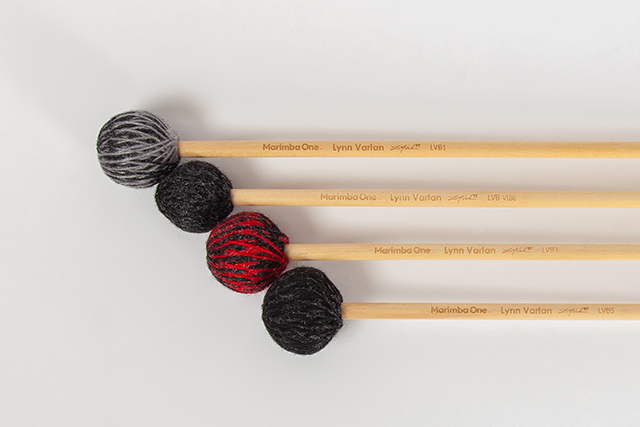 The Lynn Vartan Signature Series mallets are "just right" for any grip, any piece, any ensemble, or any venue. The incredibly durable and warm-sounding yarns give clarity, articulation, and depth from the very hardest mallet down to the super warm and rich soft mallet. This versatile series can be used on both vibraphone AND marimba and comes in four varying models.  Available in both birch or rattan.