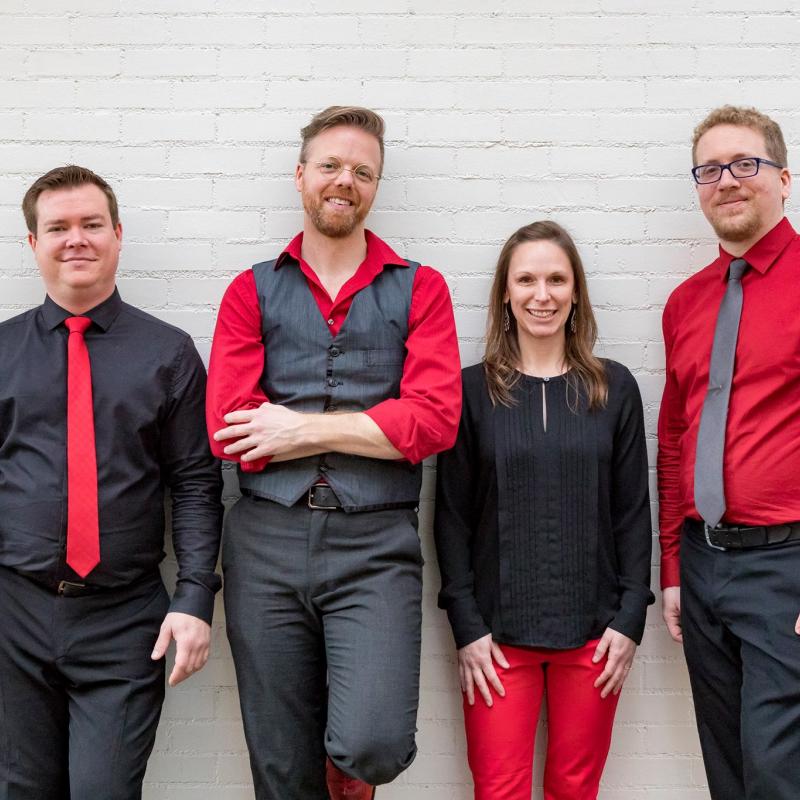 Marimba One instruments and mallets are at the core of Clocks in Motion Percussion's sound. The clarity of pitch and sensitivity of dynamics in all ranges of the instrument make it ideal for our unique and complex percussion quartet repertoire. Marimba One instruments never hold us back, rather, they elevate our sound to the highest level we can achieve.
Clocks in Motion is: Megan Arns, Matthew Coley, Christohpher G. Jones and Sean Kleve
Hailed as "nothing short of remarkable" (ClevelandClassical.com) and "the most exciting addition to Madison's classical music scene" (The Isthmus), Clocks in Motion is a percussion quartet that performs new music, builds many of its own instruments, and breaks down the boundaries of the traditional concert program. Formed in 2011, Clocks in Motion is quickly becoming a major artistic force in today's contemporary music scene. Among its many recent and upcoming engagements, the group served as performers at the Interlochen Arts Academy (MI), The Stone (NY), The Overture Center for the Arts (WI), Muhlenberg College Contemporary Music Festival (PA), University of Michigan (MI), Cleveland Contemporary Players (OH), The Stoughton Opera House, (WI), Western Michigan University (MI), and Studio Z (MN).
With a fearless and uncompromising ear to programming challenging and adventurous contemporary percussion ensemble repertoire, Clocks in Motion performs classic pieces from the past century alongside newly commissioned works. Clocks in Motion's ever growing instrument collection housed in a charming rehearsal facility outside of Madison, WI now includes in addition to a huge arsenal of standard percussion instruments, a set of 88 microtonal steel pipes known as the Galvitone, a microtonal marimba known as the Quarimba, six sets of Sixxen, large metal microtonal keyboard instruments built for Xenakis' 1979 masterpiece, Pleiades, and a four-octave glass marimba known as the Aquarion. These instruments serve as a great resource and inspiration for composers when writing new works for Clocks in Motion.
As an ensemble priding itself in curating new music for percussion quartet, Clocks in Motion passionately collaborates with composers and artists from all disciplines. The foundation of these successful collaborations are deep and meaningful personal relationships. The quartet's most recent commissioning initiative called Clock Shop reflects a commitment to a single composer over time. Jennifer Bellor is the first Clock Shop composer and she will be writing four new percussion quartets specifically for Clocks in Motion in close collaboration over the course of a three year period. In addition to Clock Shop, the quartet currently has ongoing commissioning projects with composers David Colson and Andrew Rindfleisch.
Working to promote a variety of musical styles from different cultures, Clocks in Motion places the hammered dulcimer in center-stage played by group member Matthew Coley who arranges music from around the world on his custom built instrument. Clocks in Motion has a growing library of repertoire that features Coley's virtuosity in both folk and contemporary musical styles.
Not only known as a virtuosic performing ensemble, Clocks in Motion works passionately to educate young audiences through master classes, residencies, presentations, and school assemblies. The individual members of Clocks in Motion's unique skill sets and specialties contain an impressive mix of musical styles including, rock, jazz, contemporary classical music, orchestral percussion, marching percussion, and world music styles. Clocks in Motion works regularly with all age groups in accessible hands-on workshops.
Clocks in Motion proudly performs exclusively on Marimba One marimbas and vibraphones.