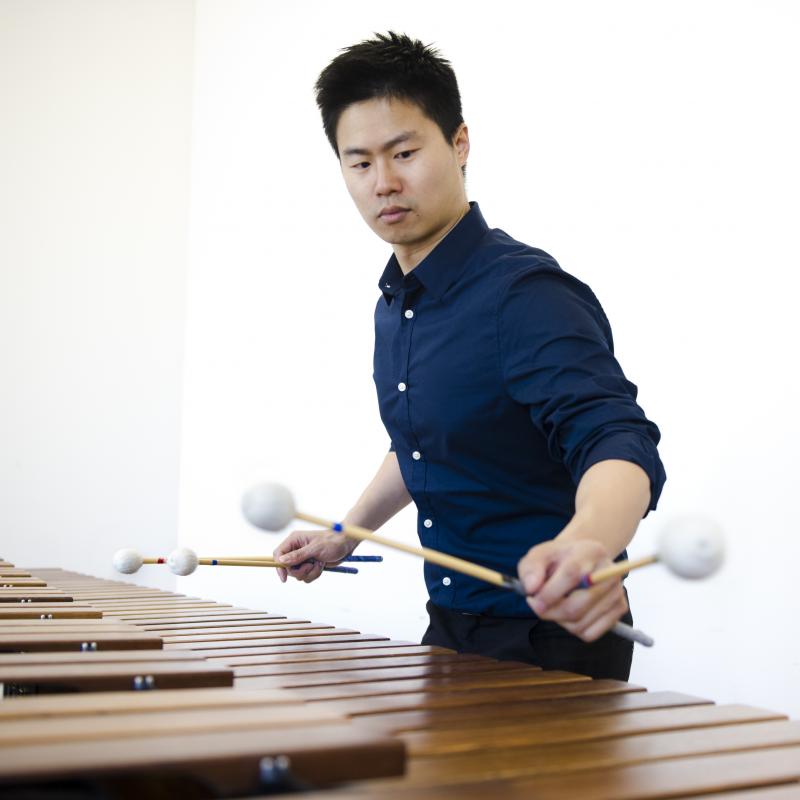 "I have performed many concerts on Marimba One™ marimbas and I love the sound! I really appreciate how every key on the instrument is so perfectly crafted to sing together with a unified voice."
Weichen is a respected marimba performer, and chamber, contemporary, and orchestral musician. Born in 1982 in Tainan City, Taiwan, percussionist Weichen is currently based in Los Angeles, CA and Taipei, Taiwan. Weichen's recent marimba repertoire includes music of J.S. Bach, Camille Saint-Saens, Francesco Tárrega, and Lyle Mays. Weichen is currently a member of board committee of Taiwan Percussion Association, and a member of Keyboard Committee of Percussive Arts Society. Weichen is currently an associate professor of Yulin Normal University in China (sabbatical) and assistant professor of National Chiayi University in Taiwan.
Weichen is awarded the Outstanding Alumni Award of his Taipei National University of the Arts in 2017. In addition, Weichen is first prize at the 2008 Classical Marimba League International Marimba Artist Competition and first prize at the 2007 Italy PAS International Percussion Competition, Other awards include: the Laureate of The First Classical Music International Internet-Festival 2013 in Moscow Russia, the winner of 2013 Taiwan NTCH Young Star Series, Silver Medal of 2012 Houston Symphony Ima Hogg Concerto Competition, Third Prize of 2012 Atlantic Symphony Orchestra Concerto Competition, Second Prize of the 2007 PASIC Marimba Solo Competition, and the winner of 2007 Boston University Soloists' Competition. Weichen received the Boston University Honors Award twice in 2008 and 2013. In 2014, Weichen was invited to be the lifelong membership of the National Music Honor Society Pi Kappa Lumbda. In 2017, Weichen is awarded the Outstanding Alumni Award of Taipei National University of the Arts.
As an active soloist, Weichen has appeared as concerto soloist with Singapore Wind Symphony Percussion Ensemble, Taipei Philharmonic Youth Orchestra, Tainan Symphonic Band, The Concord Band, Houston Symphony, Hong Kong Youth Symphonic Band, and with Boston University Symphony Orchestra. Wei-Chen has commissioned and premiered works with notable composers: "Azura" by Chinese composer Yao Chen, and "Zalan-Zalan" Concerto for Percussion and Orchestra by Julie Spencer and Gernot Blume. In December 2017, Weichen's premiere performance of "Zalan-Zalan" Concerto for Percussion and Orchestra with TPYO received a critical acclaim in Taipei, Taiwan.
Weichen has given concerts and masterclasses in Taiwan, Australia, Peru, México, China, Macau, Hong Kong, Japan, Italy, Singapore, Thailand, Russia, and United States. Weichen was also a jury member of the Taiwan Marimba Competition (2009, 2011), Taipei World Percussion Championship (2013, 2014, 2015, 2016), Australian Marimba Competition (2015, 2017, 2018), Taiwan Percussion Association Youth Percussion Competition (2016), Marimbafest in Perth (2019), and Taiwan Music Competition (2020). 
Weichen's orchestral appearances include concerts with the Quincy Symphony Orchestra, Boston Civic Symphony, and The Macao Orchestra. He received a Tanglewood Music Center fellowship in 2008. Weichen has played orchestral under the baton of James Levine, Sir Andrew Davis, Bernard Haitink, Oliver Knussen, Rafael Frühbeck de Burgos, and André Previn. Weichen served as the first Timpanist of National Taiwan Symphony Orchestra from 2010 to 2011. From 2016 to 2019, Weichen served as the percussionist of Shanghai Symphony Orchestra (SSO). Weichen toured with the SSO in major festivals, including Ravinia Festival, Wolftrap Festival, Lucerne Festival, Beijing Music Festival, BBC The Proms, Edinburgh International Festival, and Grafenegg Festival.
Weichen received his Bachelor of Arts from National University of Arts. He moved to the United States in 2006. He received his Master of Music and Doctor of Musical Arts from Boston University under the tutelage of Timothy Genis. In 2016, Weichen received Artist Diploma as a marimba major at The Boston Conservatory under the guidance of world-famous marimbist Nancy Zeltsman.
Weichen is a Premier Artist of Marimba One, a signature artist of Innovative Percussion, and an Artist of Grover Pro Percussion.