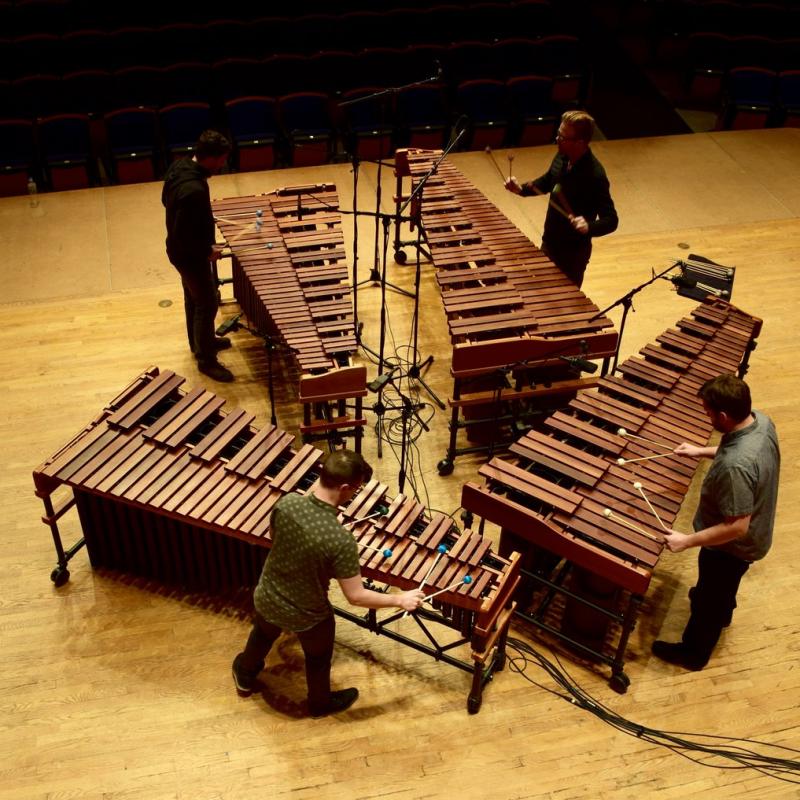 Marimba One instruments facilitate supremely balanced artistry for each individual performer. The Heartland Marimba Quartet strives to embody this versatility and dynamicity. The profound acoustics and picturesque beauty of the instruments easily come alive at the hands of passionate performers. Marimba One's unmatched craftsmanship and musicality resides at the heart of the Heartland Marimba Quartet.
Heartland Marimba Quartet
The Heartland Marimba Quartet (of the Heartland Marimba Organization):
- Ujjal Bhattacharyya (HM associate director)
- Christina Cheon (HM associate director)
- Matthew Coley (HM executive/artistic director)
- Joe Millea (HM associate director)
The Heartland Marimba Quartet was established in 2016 by acclaimed marimba soloist Matthew Coley. The group seeks to give a platform to the music of American composers in its programming and continues to expand its repertoire with works from composers worldwide. Comprised of four distinctively creative forces, Ujjal Bhattacharyya, Christina Cheon, Matthew Coley, and Joe Millea, HMQ exemplifies Heartland Marimba's mission to develop and disseminate the classical marimba art form in both academic and community contexts. In 2018, HMQ had the honor of being the ensemble in residence for the Society of Composers National Conference in Tacoma, Washington, and premiered works with the University of Puget Sound Wind Ensemble, Gerard Morris, conductor. HMQ's 2018-2019 season further highlighted works written for Heartland Marimba, including Alex Orfaly's Fôr Marimbas, Steven Simpson's Fluidity, Matthew Coley's Rivers of Rage, and the newest addition, The Principle of Vibration by Brett William Dietz. During the 2019-2020 season, they released an album entitled VISION and collaborated with the Dubuque Arts Council, Millikin University Percussion, the Minot Symphony Orchestra, and the Dubuque Symphony Orchestra. These collaborations involved premieres of four concerti: Kevin Romanski's Concerto for Marimba Quartet and Orchestra, Efrain Amaya's Marahuaka, and Matthew Coley's Journey and Rivers of Rage Concerto.
"The Heartland Marimba Quartet is a fabulous ensemble. [They] perform with arresting and virtuoso precision. This unanimity of execution extends not only to the articulation of the various pitches and rhythms, but to the broad palette of dynamics and colors they explore, all couched in a marvelous plasticity of phrasing." ~ Ken Meltzer, Fanfare Magazine
"Heartland Marimba Quartet is doing commendable work to promote and expand the marimba quartet art form...[HMQ] demonstrates fabulous ensemble skills, infectious energy, and nuanced performances." ~ Rebecca McDaniel, Percussive Notes