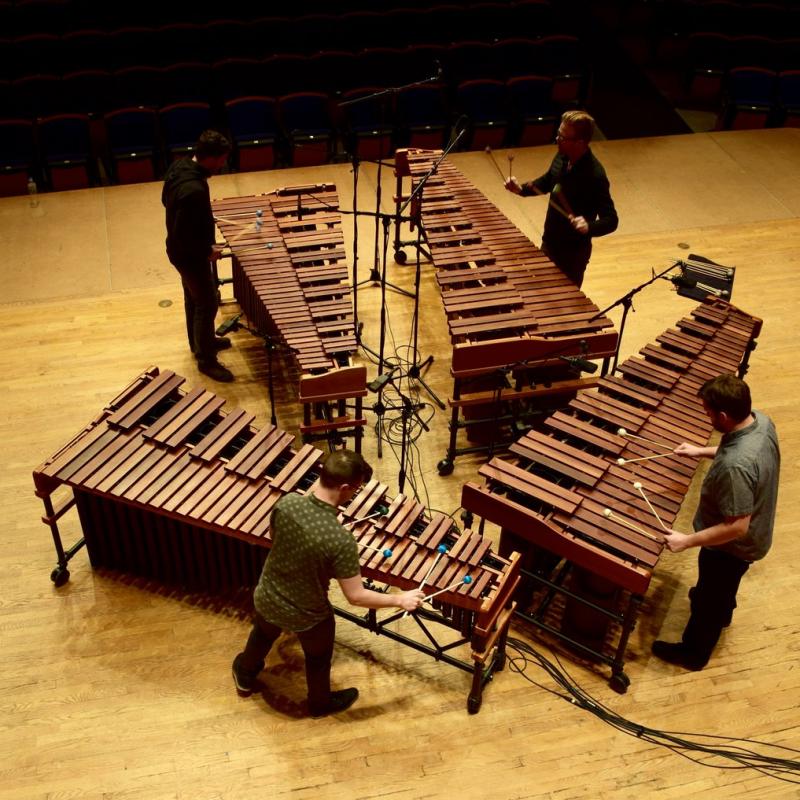 Marimba One instruments facilitate supremely balanced artistry for each individual performer. The Heartland Marimba Quartet strives to embody this versatility and dynamicity. The profound acoustics and picturesque beauty of the instruments easily come alive at the hands of passionate performers. Marimba One's unmatched craftsmanship and musicality resides at the heart of the Heartland Marimba Quartet.
Heartland Marimba Quartet
The Heartland Marimba Quartet (of the Heartland Marimba Organization):
- Matthew Coley, HMQ artist & HM artistic director
- Michael J. Jones, HMQ artist & HM creative co-director
-Andrew Veit, HMQ artist & HM creative co-director
- Joe Millea, HMQ artist & HM creative co-director
The Heartland Marimba Quartet (HMQ) is the primary performing ensemble of Heartland Marimba. Established in 2016 by acclaimed marimba soloist Matthew Coley, the group seeks to give a platform to the music of American composers in its programming, and continues to expand its repertoire with works from composers worldwide. Comprised of four distinctively creative forces, Matthew Coley, Michael J. Jones, Joe Millea, and Andrew Veit, HMQ exemplifies Heartland Marimba's mission to develop and disseminate the classical marimba art form in both academic and community contexts. HMQ recently had the honor of being the ensemble in residence for the Society of Composers National Conference in Tacoma, Washington. While there, the group premiered a new concerto for marimba quartet and wind ensemble by Paul Alan Price-Brenner with the University of Puget Sound Wind Ensemble. HMQ's 2018-2019 program will highlight further works written for Heartland Marimba, including Alex Orfaly's Fôr Marimbas, Steven Simpson's Fluidity, Matthew Coley's Rivers of Rage, and feature the premiere of a new piece and namesake of the tour, The Principle of Vibration by Brett William Dietz.