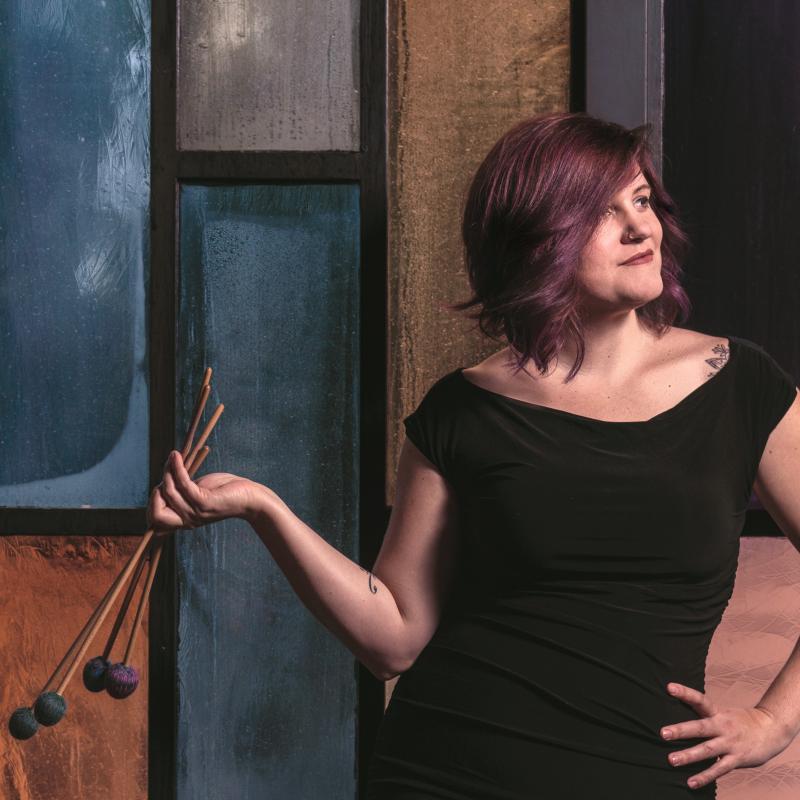 Jenny Klukken is a marimbaist from Minneapolis, Minnesota, who combines her classical percussion background with her passion for folk, jazz, and world music. In her unique approach, she bridges the gap between virtuosic marimba repertoire and improvised music making. Jenny has performed in a wide variety of musical settings, including: jazz ensembles, Brazilian jazz trios, hip hop artists, beat-boxers, folk string groups, Latin music ensembles, and more. She values music that speaks to a wide variety of audiences and pushes the marimba out of typical setting. She strives to take the instrument into new ears; celebrating its versatility with approachable and refreshing music.
Jenny is native to central, rural Minnesota and grew up in home full of bluegrass, jazz, gospel, and Irish folk music. Today, as a composer, she draws much of her inspiration from these genres. She first moved to Minneapolis to study Percussion Performance at the University of Minnesota with Fernando Meza, Steve Yeager, and Phil Hey. While studying percussion, she discovered her aptitude for performing and composing as a marimbist. Since completing her formal education, she has been performing almost exclusively as a marimbist. She became an educational endorser of Marimba One instruments in 2017 and later became a Premiere Artist in 2021.
In 2012, Klukken co-founded the percussion group MATRA, and innovative percussion-based ensemble that played jazz, world, and folk musical styles.  Matra provided Klukken with a platform for composing and playing in settings outside of the usual classical marimba world. In May of 2016, Matra released its first full length album of all-original compositions and was awarded twice with MPR's Class Notes Artist Grant in 2015 and 2017.
Jenny travelled to Paris in 2018 to study with Eric Sammut through the Metropolitan Region Arts Council's Next Step grant program. This opportunity to study with one of the greatest composers and performers of the marimba world was a life-altering experience for Jenny in her first years as an emerging artist. That next year, Jenny travelled to Costa Rica through another grant from the MacPhail Center for Music to both teach marimba improv clinics at various colleges, and to travel to rural parts of Guanacaste to learn more about the traditional Costa Rican marimba music.
Following these projects, Jenny wrote and produced a full length album of original compositions featuring herself on marimba and small ensemble. This album was funded through a Kickstarter campaign in 2019 and the album is set to release in mid 2021. The album, titled "Color in Motion" takes the marimba out of the modern-classical musical setting it usually dwells in and brings it to the wider world of jazz, world, and folk music. Jenny embraces genres from all over the world; exploring the marimba as an instrument with as much diversity and capability as the guitar or piano. Jenny's compositions take listeners on comfortingly familiar journeys to places like Spain or Latin America, but with the unexpected sound of the modern marimba. A virtuosic performer and improviser, Jenny Klukken puts the marimba in a new, refreshing, and exciting spotlight.