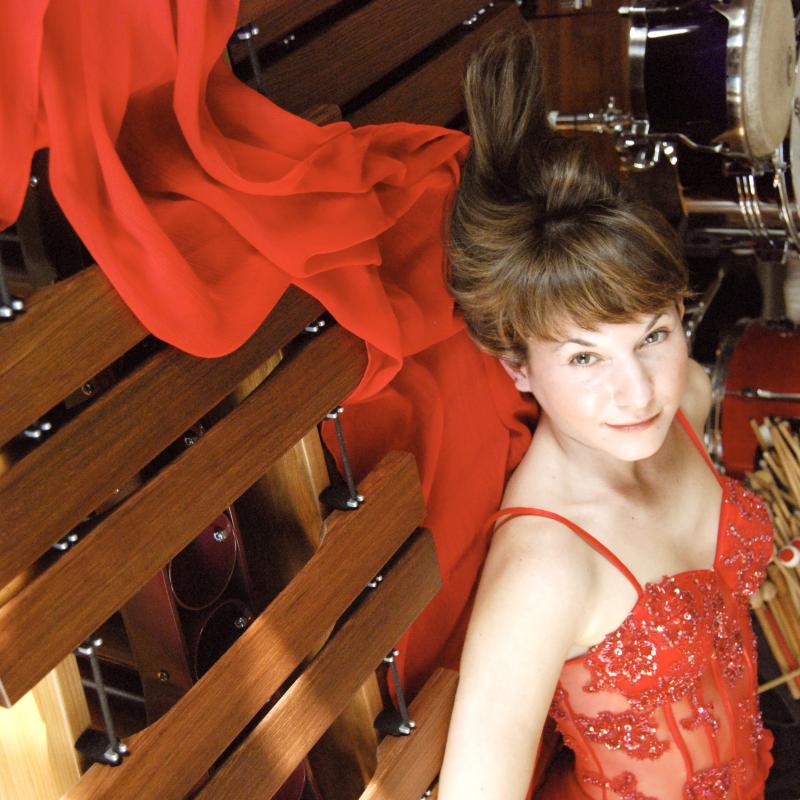 I was immediately in love with marimba one™ because of the tone and the evenness of the keyboard.
Lisa Pegher is an American Solo Percussionist who has been described by the Boston Globe as "Forcefully Balletic" and by another critic as "A gifted passionate artist, with a rock-star aura". She has been featured in Symphony Magazine as one of the top six performers of her generation and continues to carve a new path for percussion as a solo instrument.
Constantly looking for new artistic ways to present percussion to a broader audience, Lisa is currently performing her own multi-media project called: Minimal Art, which incorporates digital animation design, computer electronics and improvisation. It is featured on her newly released album. She also recently won a grant from Meet the Composer allowing her to commission a new percussion concerto by American Composer, David Stock that she premiered with a consortium of orchestras beginning in the 2007-08 season. Previous to the launch of full-time solo career, Lisa performed as the Principal Timpanist of the Acadiana Symphony Orchestra and Section Percussionist with the Baton Rouge Symphony Orchestra.
As a soloist Lisa has performed with many fine orchestras across the globe including the Louisiana Philharmonic, the Pittsburgh Symphony Orchestra, NEPA Philharmonic, Williamsport Symphony Orchestra, Asheville Symphony Orchestra, FM Symphony Orchestra, Southwest Michigan Symphony Orchestra, York Orchestra and the Acadiana Symphony Orchestra, Lansing Orchestra, Lima Symphony Orchestra, Elmhurst Orchestra, and Peninsula Festival Orchestra among others. She has also worked with many inspiring conductors such as Manfred Honeck, Maximo Valdez, Daniel Meyer, Timothy Mufftt, Victor Yampolsky, Lawrence Loh, Sydney Harth, Lucas Richman, Kevin Noe, Crafton Beck, Tomasz Golka, Emily Ray, Robin Fountain, Brett Mitchell, Bernard Rubenstein, Robert Hart Baker, and Gil Rose, to name a few.
Recently, she performed with the Grand Junction Orchestra in Colorado playing Jennifer Higdon's Concerto for Percussion and is also performing concerti by Joseph Schwanter, James MacMillan, Kevin Puts and Brett William Dietz. Lisa gave the Wisconsin premiere of Tobias Brotrøm's Arena Percussion Concerto with the Peninsula Festival Orchestra in August 2010 and recently premiered and recorded Mathew Rosenblum's Double Concerto for Saxophone and Percussion with the Boston Modern Orchestra Project, Gil Rose and Kenneth Koon. This will be released on the BMOP Sound label in coming months. As an advocate of new music, she also recently premiered a new marimba solo by composer, Derek Bermel at the Institute for Advanced Studies in Princeton, New Jersey and has also been involved with commissioning new works from Martin Bresnick and Paul Lansky.
Lisa keeps an up to date journal on her website: www.lisapegher.com. Visit this site to keep track of her upcoming performances and experiences on and off the road. Ms Pegher endorses, and is supported by: Evans Drumheads, Marimba One, Innovative Percussion and Matt Nolan Custom Cymbals