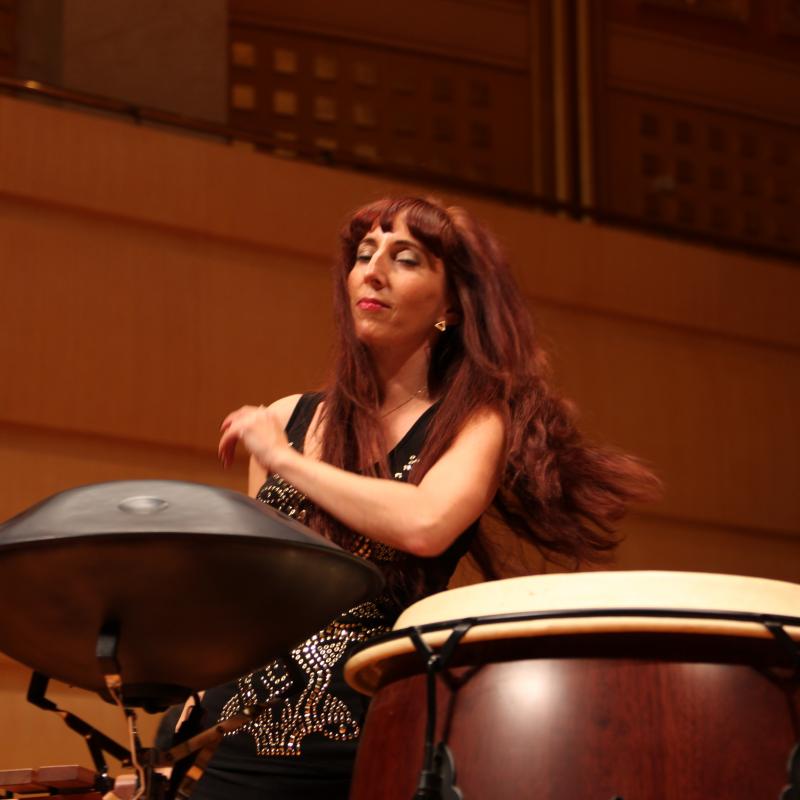 For me, the sound of the Marimba One™ instrument is exceptional. When I play a Marimba One, I feel an expressivity, flexibility and depth to the sound that is amazing and unparalleled! They are sound artistry!
Percussionist Lynn Vartan is an international performer and educator who is an advocate for diversity in music.
As a new music percussionist Lynn has worked with Michael Colgrass, Vinny Golia, Arthur Jarvinen, Ursula Oppens, Joan Tower, Glen Velez, Xtet, James Newton, Chinary Ung, the Hilliard Ensemble, the Tambuco Percussion Ensemble and Grammy Award-winning Southwest Chamber Music, and is known for her dynamic athleticism and exciting energy on stage.
Lynn has commissioned and/or performed countless new works for percussion by composers such as Donald Crockett, William Kraft, Steve Hoey, Veronika Krausas, Erica Muhl, Arthur Jarvinen, Jeff Holmes, and Shaun Naidoo.
As a recital soloist, Lynn has been featured on the Los Angeles Philharmonic Green Umbrella Series, the Different Trains Series, at Montana State University, Cornell University and with the USC Contemporary and Percussion Ensembles. She is regularly presented on the Music at the Court series in Pasadena, California, where she produces her own solo percussion concerts.
As a concerto soloist Lynn has won the California State University Concerto Competition as well as the FCC Young Artists Competition and has performed as a soloist with the Sierra Wind Symphony, the CSUN Symphony and Southwest Chamber Music, as well as premiering two additional new concertos for marimba and percussion by Mark Lanz Weiser and Shaun Naidoo.
Lynn has appeared on the ECM New Series for Stephen Hartke's Tituli, and was twice Grammy nominated on the Cambria label with Southwest Chamber Music in "Best Classical Album of the Year" and "Best Small Ensemble with or without a conductor" for The Complete Chamber Music of Charlos Chavez, Volume III. Lynn is also featured on Albany Records as a soloist on Range of Light: Selected Chamber Works of Erica Muhl, and is currently producing two albums of her own for release next year.
A devoted ensemble musician, Lynn is the percussionist for Southwest Chamber Music, the violin/percussion duo 61/4 which she founded with Shalini Vijayan, and a duo percussion group she formed with Tambuco's Miguel Gonzalez. She received her Master's and Doctorate degrees with special honors and recognition from the University of Southern California. Lynn is currently the head of Percussion at the Pasadena Conservatory of Music and at Citrus College. Lynn is endorsed by the Paiste Corporation, Remo Inc., Innovative Percussion and marimba one.