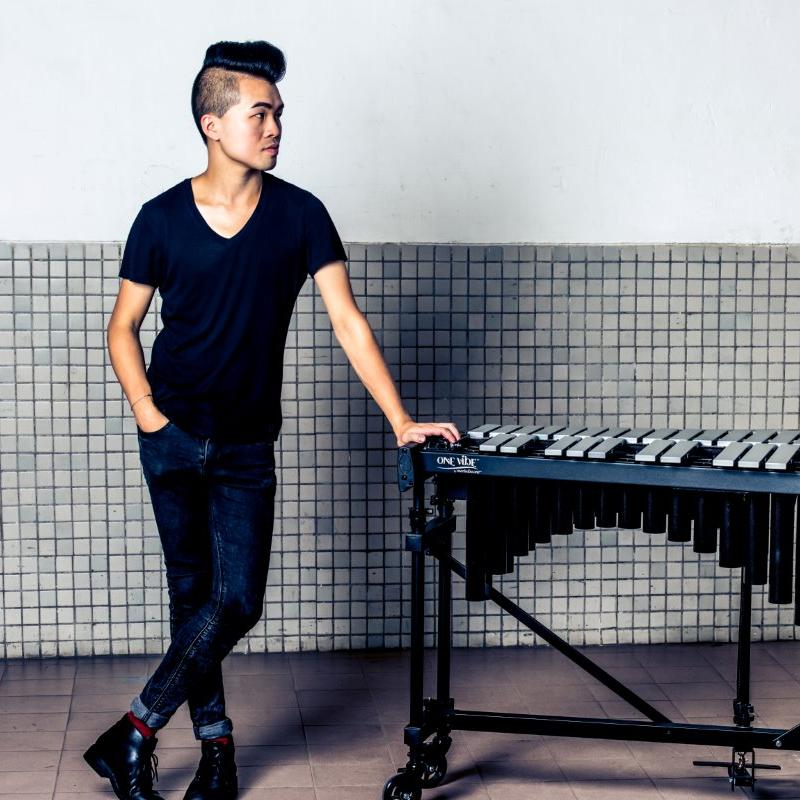 " Every time when I walk behind a Marimba one, I discover something new. I received my One Vibe last week and it is absolutely gorgeous. The craftsmanship, attention to detail, tone quality, projection, and ease of transport, everything exceeds what I ask for in an instrument. I just simply could not stop playing it! Thank you, Ron and your fabulous team."
Hailed by the Aspen Times for his "soulful and technically impressive solo" at his vibraphone concerto debut at the Aspen Music Festival, percussionist Dr. Matthew Lau performs a wide range of repertoire with an absolute commitment to communicating the meaning and essence of percussion music to its audience, from arrangement of Bach's Violin Sonata on marimba to avant-garde contemporary pieces by Franco Donatoni and Iannis Xenakis.
Pursuing a strong interest in contemporary percussion music, his vision and aesthetic are aimed to expand the ever-growing percussion repertoire by pushing existing boundaries, incorporating electronics & technologies and discovering new sounds. His interest in exploration of new music has led Matthew to commission new pieces with many renowned composers.
A finalist at the 2016 Italy Percussive Arts Society Competition Vibraphone Category, Matthew performs around the world. In the summer of 2016, he performed at the week-long Australian Percussion Gathering at Brisbane Conservatorium of Music, The Modern Academy Series by Hong Kong New Music Ensemble (Hong Kong), Summer Institute for Contemporary Performance Practice (Boston, MA). Other engagements in the United States include Rite of Summer Music Festival (New York, NY), Necessary Noise Percussion Festival (Montclair, NJ), New York PAS Weekend of Percussion (New York, NY), Make Music New York (New York, NY), Gettysburg Chamber Music Festival (Gettysburg, PA), Aspen Music Festival (Aspen, CO), Bang On A Can Marathon Concert (New York, NY), Film Music Live! (New York, NY). He has also performed in Zankel Hall at Carnegie Hall, Symphony Space New York, Roulette, Firehouse (Brooklyn, NY), Spectrum (NY), Benedict Music Tent, Harris Concert hall (Aspen, CO), Suntory Hall (Tokyo, Japan), KBS Hall (Seoul, Korea).
As an avid chamber musician, Matthew is the co-founder and member of the percussion duo Fisher/Lau Project with percussionist Abby Fisher, member of Contemporary Chamber Players at Stony Brook University, and has premiered pieces by Mark Applebaum, Chris Swithinbank, and Matthew Barnson.
A native of Hong Kong, Matthew obtained his Doctor of Musical Arts in contemporary percussion performance from Stony Brook University under the guidance of Eduardo Leandro. He holds a Master of Music from New York University studying with Jonathan Haas, Simon Boyar, and James Saporito. He obtained his undergraduate degree from Hong Kong Baptist University under the tutelage of Dr. Heung-Wing Lung, and James Boznos.
Dr. Lau is artist endorser of Marimba One, Black Swamp Percussion, and Vic Firth. Besides music, he is also an avid knitter and certified as a Level 1 Master Knitter by The Knitting Guild Association.