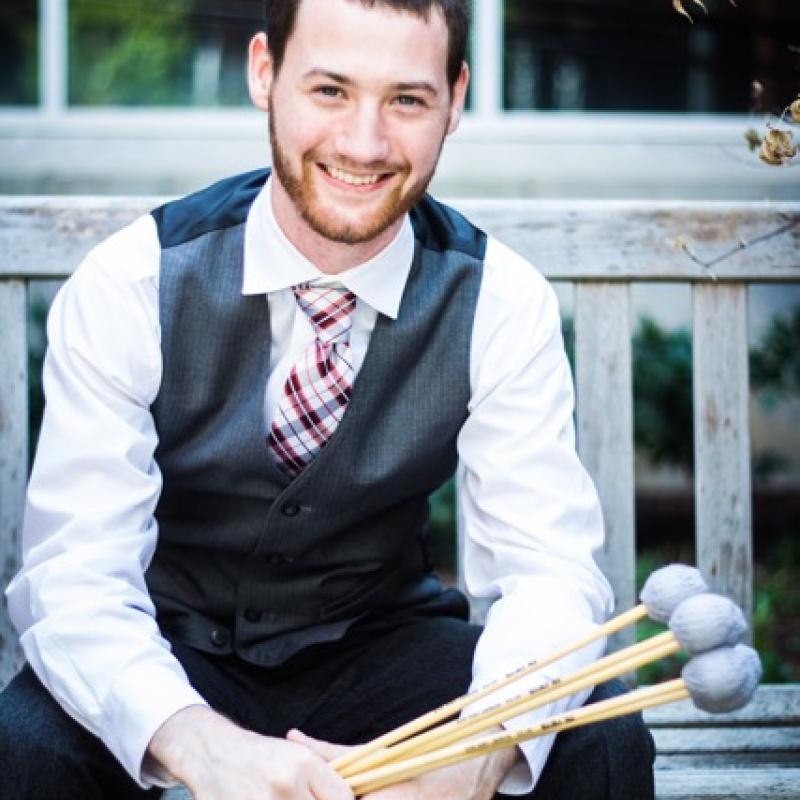 "I choose to play on Marimba One instruments because they are the best on the market. The depth, warmth, and resonance of each bar lets them sing. It is a joy to play on an instrument of such high craftsmanship and quality."
Micheal Barnes is currently pursuing a Master's degree in Percussion Performance at the University of Cincinnati College-Conservatory of Music, studying under James Culley and Rusty Burge. He has previously performed with the National Youth Orchestra of the United States of America, the Fort Smith Symphony, and the Symphony of Northwest Arkansas. His performances have taken him to Russia, the United Kingdom, Japan, and across the United States. He placed in the Naftzger Young Artist Competition, the Coeur d'Alene Symphony National Young Artist Competition, the Great Plains International Marimba Competition, the Hellam Young Artist Competition, and the U.S. Army National Collegiate Solo Competition. He was the winner of the 2015 Oklahoma Day of Percussion Collegiate Solo Snare Drum Competition, the 2016 ENKOR International Music Competition, and advanced in the 2017-2018 American Prize for Solo Performance.
As a soloist, Micheal has been featured with the Oklahoma State University Wind Ensemble, the University of Oklahoma Symphony Orchestra, the Delta Symphony, the CCM Chamber Choir, and the Cameron University Percussion Ensemble. He has also performed with the critically-acclaimed h2 Saxophone Quartet. He was selected as a participant for the Leigh Howard Stevens Bach Masterclass at PASIC 2014 as well as a member of the 2015 PASIC All-Star Percussion Ensemble. In 2017, Micheal created the Free Form Percussion duo with close friend and colleague Charlie Mogen, with plans to tour the Midwest in early 2018.
As an educator, Micheal has taught at numerous schools across Oklahoma, including MacArthur Middle School and Purcell High School, and having previously maintained private studios in Lawton and Norman, Oklahoma. Micheal now teaches at Miss Shannon's Music Studio in Batesville, Indiana, where he gives lessons in drum set, piano, percussion, and steel drums. In addition to arranging for marching bands, Micheal composed Distance for Solo Marimba and Crotales, published by Tapspace Publications, and is a contributor to the Percussive Arts Society's free, digital magazine, Rhythm! Scene. In 2015, he was awarded a teaching fellowship to work with the National Youth Orchestra and Choir of Belize, and the Mary Grey Thompson Award for outstanding contributions to the University of Oklahoma College of Fine Arts. Currently, Micheal is a music theory teaching assistant at CCM, where he has taught undergraduate courses in music theory and aural skills.
He received his Bachelor of Music from the University of Oklahoma, and is a member of the PAS University Committee. In addition to being an active member of the Percussive Arts Society, he is also a part of the Society for Music Theory and is a Vic Firth Artist.