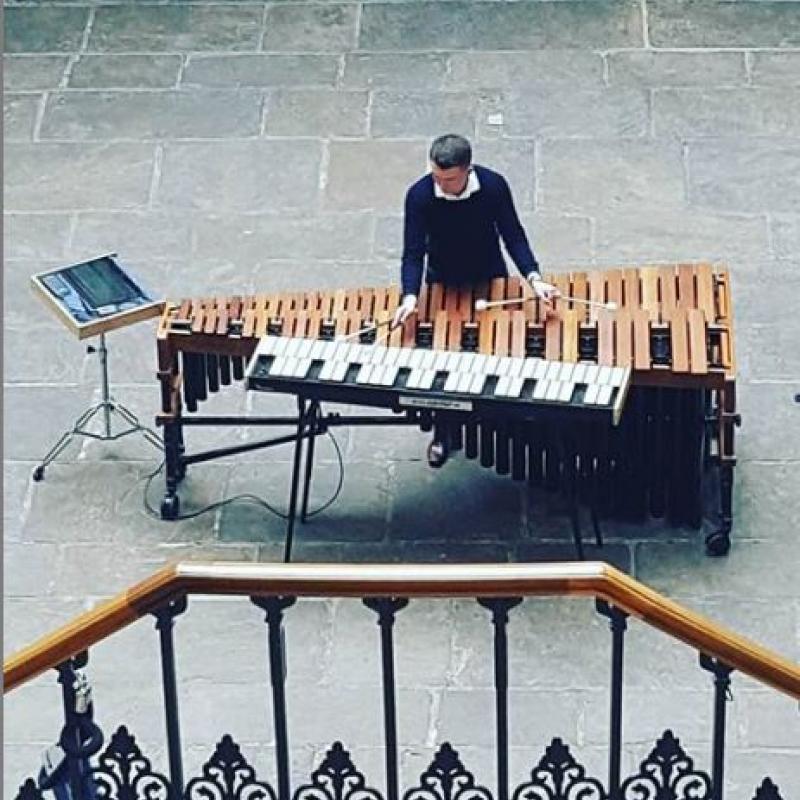 "There is simply nothing quite like a Marimba One in terms of craftsmanship, build quality, sound and design. Each individual instrument is a work of art in its own right and can produce a sound that makes most other marimbas seem dull by comparison. The attention to detail and the amount of time and effort that goes into creating these instruments really shows in the final product and this gives the performer a 'blank canvas' on which to unleash their musical ideas."
Having started learning piano and violin aged 10, Mike's interest in music was born and continued into secondary school where he progressed to the drum kit which ignited his passion for percussion. Having achieved grade 8 drum kit by the age of 16 he was successful in his application to Chetham's School of Music in Manchester where he furthered his percussion education studying with Paul Patrick, David Hext and Sophie Hastings. It was at Chetham's when he began lessons in composition under the guidance of Dr Gavin Wayte which sparked his interest in film music and started him on the path to becoming a composer. During his time at Chetham's, Mike played in various prestigious ensembles, orchestras and bands, performing in venues such as The Bridgewater Hall, Milton Court, Royal Festival Hall, Cheltenham town hall, Litchfield Cathedral and Band on the Wall.
Mike recently graduated from Leeds College of Music where he was involved with many of the classical ensembles and more notably was invited to join 80's pop music icon Marc Almond on his UK tour in 2016. This was part of a collaboration to celebrate 50 years of the college and included performing in Leeds Town Hall and the Royal Festival Hall to crowds of around 3000 people. Whilst at college, he also toured with the LCoMSU Camerata which was the first ever classical ensemble from the college to go on tour and included performances in Germany, Amsterdam and Belgium. As well as these performances, he composed and arranged a number of pieces for the various ensembles and orchestras, taking inspiration from the film and trailer music genres and from artists such as Hans Zimmer and Two Steps From Hell.
Recently, he participated in work experience with trailer music production company Gothic Storm gaining valuable knowledge from professionals in the film music industry and composing a piece with help from the company's CEO Dan Graham. This composition was performed by Maghull Wind Orchestra in a workshop with Bill Connor (who has orchestrated many of Hans Zimmer's works) who made the comment: "Mr Zimmer would be pleased with this."
As well as his performances involving classical percussion, he is also part of a recently formed percussion duo 'Inpulse' who are currently signed to Jonny Ross Music and frequently perform around the UK.
Now a recent graduate of LCoM, Mike is working towards developing his solo career both as a performer and composer and has aims to record an album of marimba music with the hopes of being signed to the Sony Masterworks record label in the near future.