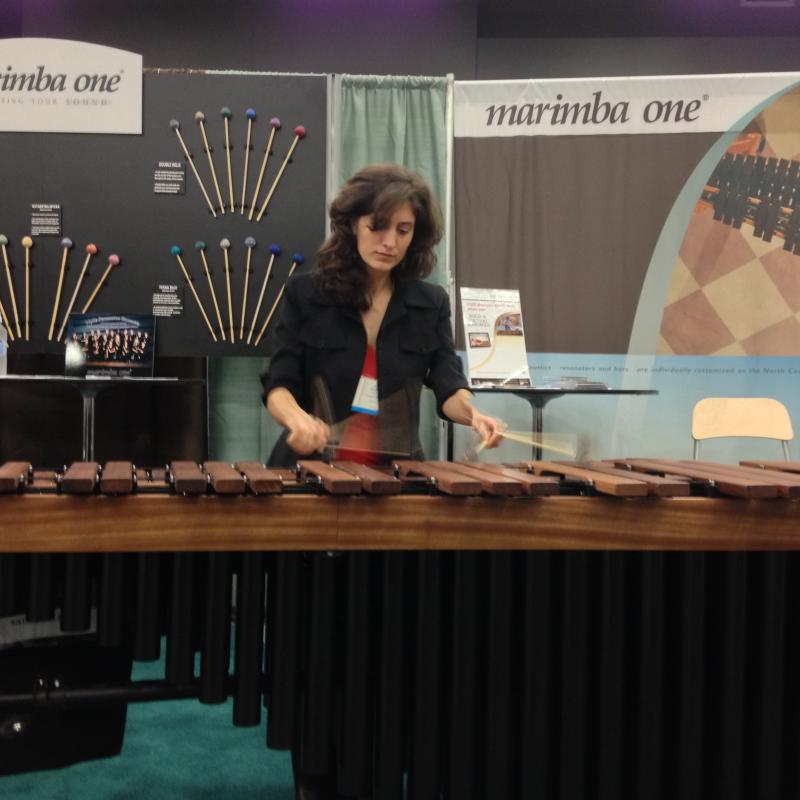 We first fell in love with the sound of Marimba One™ marimbas, then we started to understand why : when Ron questioned us about how we would like our future instrument to sound and how he took note of each of our very personal remarks and feelings, we saw the true meaning of "handcrafting your sound". It's about ending up with an instrument which is not only unique but also features a bit of ourselves and our music.
Sandra & Mathieu are French percussionists performing in duo as well as in their famous Quatuor Puls' percussion quartet from which they got inspired to create another unique percussion ensemble experience.  Together, they express a wide variety of percussion styles among recording sessions and recitals all around the world, while feeding their own creativity desire which they believe percussion deserves by commissioning great composers and premiering new pieces, or proving their unlimited passion for the whole repertoire through self-arranged masterpieces.
Sandra Valette studied dance, piano and percussion in the Conservatoire National de Région de Montpellier before moving to Paris where she studied with Michel Gastaud  and then with Alain Huteau in the Conservatoire National de Région de Cergy-Pontoise. She obtained multiple percussion and chamber music prizes. Afterwards, she entered the class of Jean Geoffroy at the Conservatoire National Supérieur de Musique de Paris where she obtained the highest French percussion professor degree. She is now teaching in the music school of the 18th district of Paris. Among her numerous performances with renowned orchestras, she runs several music chamber projects like the WIP duo (marimba – euphonium) and the aforementioned percussion quartet and duo with Mathieu.
Mathieu Demange first studied piano with Fabrice Garniron then entered Didier Vérité's percussion class in the music school of the 13th district of Paris where he also studied jazz drums with Jean-Claude Jouy. He attended superior music theory classes with Benoît Menut and obtained national professor degree in 2009. He now teaches in two music schools in Paris. Besides playing and recording with various orchestras and chamber music ensembles he arranges pieces for his duo with Sandra and the Quatuor Puls' quartet. Fascinated in computing and electronics since he was a child, he is now about to run a Computer Aided Music class in the music school of the 17th district of Paris and is currently developing a new hardware synthesizer. 
Since January, 2012, Sandra Valette is president of the French Association for Percussion (Association française pour la percussion)