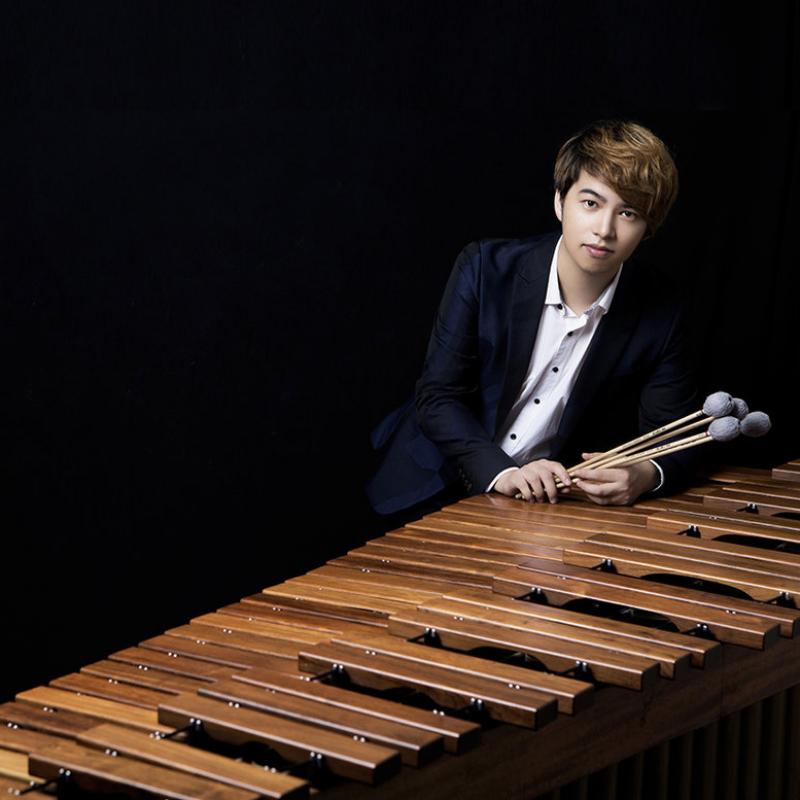 From a young age, Shiqi displayed extraordinary musical talent. He started learning percussion at the age of 3 and joined the Nanjing Little Red Flower Art Troupe at the age of 6, studying under Professor Ling Kai. During his time in school, he performed as a lead percussionist in the program "Drum Fun," which participated in the Beijing International Music Festival and received unanimous praise. He also traveled to countries such as Botswana, Mauritius, and South Africa as part of a cultural delegation.
In 2007, he was admitted to the High School Attached to the China Conservatory of Music, where he studied ethnic percussion under Professor Shanlin Jiao. He won several awards, including the Silver Prize in the Fourth Jiangsu Province Wind Orchestra (Percussion) Competition in 2008, fifth place in the CCTV National Ethnic Instrumental Competition in 2009, and the Gold Prize in the Marimba Professional Group of the Second International Chinese Arts Festival Percussion Competition in 2011.
In 2009, Shiqi Zhong had the opportunity to attend a masterclass by renowned American percussionist Robert van Sice, which inspired him to explore the charm of Western percussion. In 2011, he was accepted into the Preparatory Division of the Juilliard School. During his time at Juilliard, he studied with esteemed professors such as Jonathan Haas, Pablo Rieppi, Greg Giannascoli, David Rozenblatt, Mark Sherman, Daniel Druckman, Gordon Gottlieb, Mike Truesdell, and Jorge Jimenez.
In 2013, he won the Youth Group Gold Prize at the PAS Kosa Marimba Competition at New York University. That same year, he received acceptance letters from prestigious institutions such as the Curtis Institute of Music, Juilliard School, Manhattan School of Music, Peabody Institute, and New England Conservatory. Shiqi chose to enter the renowned  Curtis Institute of Music on a full scholarship, studying under professors Don Liuzzi, Robert van Sice, Eric Millstein, and Rolando Morales. He has worked with renowned conductors such as Yannick Nézet-Séguin of the Philadelphia Orchestra, Vladimir Jurowski of the London Philharmonic, and Osmo Vänskä of the Minnesota Orchestra in school.
In the summer of 2015, Shiqi invited Professor Mike Truesdell to visit the Nanjing Art Institute for an exchange program, providing a valuable learning platform for Chinese percussion students. In 2017, he invited Professor Don Liuzzi, the principal timpanist of the Philadelphia Orchestra to give lectures in China, and in 2018, he organized a performance by the Percussion Collective founded by Robert van Sice. Shiqi's international collaborations and projects have grown over the years, and he hopes to promote the exchange and integration of Eastern and Western music cultures through these activities.
In 2016, Shiqi reached the finals of the Cleveland Snare Drum Competition. In 2019, Shiqi was selected as one of the "Top 30 Under 30" Chinese-American entrepreneurial elites in the United States. That same year, he made his debut on Broadway in the musical production of "Hans Christian Andersen: Fairy Tales and Imagenations" in New York. In the same year, Shiqi was invited by the Paulus Hook Music Foundation to hold a solo concert at Carnegie Hall in New York, making him the first Chinese percussionist to have a solo performance at the prestigious venue. This event marked a significant milestone in his career and further established his reputation as a remarkable percussionist.
In 2021, Shiqi was recognized as one of the "Top Ten Outstanding Chinese Youth" by the People's Daily and the United Chinese American Youth Federation. This acknowledgment highlighted his contributions and achievements in the field of music. In 2022, he was participated in several classic Off-Broadway musicals, including "The Little Mermaid," "Beauty and the Beast," and "A Christmas Carol." Additionally, he was invited to perform with the American Symphony Orchestra and the Composer Symphony Orchestra. These opportunities allowed him to showcase his versatility and talent across different musical genres.
In 2023, Shiqi achieved another milestone in his career by receiving an Artist Diploma in Percussion from New York University. He was also invited to perform with the New Jersey Symphony Orchestra and the American Symphony Orchestra, further expanding his repertoire and musical experiences.
Shiqi Zhong is a talented and passionate young musician who has garnered numerous awards and accolades for his energetic and unique musical performances. His talent has taken him to stages across the globe, and he has received widespread media attention from publications such as The New York Times, the Percussive Arts Society, the Philadelphia Daily News, DC Metro Theater Art, Lighting & Sound America, Theater Scene, Front Row Center, Theatre's Leiter Side, People's Daily, Chinese Special People's Newspapers and Magazines, Chinese Young Performer's Magazine, Modern Express, and Yangzi Evening News in Nanjing.
Furthermore, he is dedicated to promoting percussion education and knowledge. He has commissioned and composed numerous teaching materials and musical works. He is the founder of LBP International Music Publishing House and the creator of "Percussion Knowledge Encyclopedia," an online educational video series, as well as "YunLiaoPai," an online interview series focusing on percussion. Through these endeavors, he aims to share his passion for percussion and contribute to the development of percussion education worldwide.