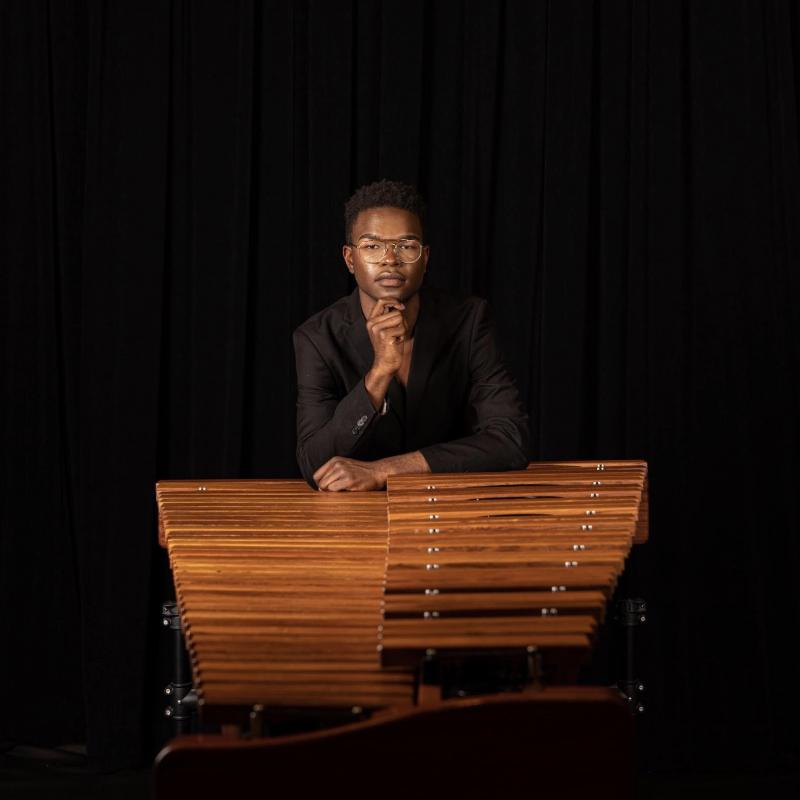 Marimba One instruments allow me to have complete agency over my sound. This makes me feel inspired and confident whenever I play the instrument.
Described as an "incredible storyteller" and a "communicative" performer, Steph Davis (they/she/he) is a marimbist, composer, cultural activist, and interdisciplinary artist. Steph strives to create artistic experiences that 1) Black and Trans people can connect with, and 2) ignite collective participation in present-day freedom struggles. 
Steph has produced and performed several marimba and interdisciplinary performance experiences, including pieces of mind (2021) and A Discourse on Black Identity (2020). Through improvisation, narrative, and immersive sonic/visual environments, their performances aim to accomplish visceral musical storytelling. These musical stories center Black and queer lived experiences and present discourses about prison abolition, Black feminism, and liberation.  
As a soloist and chamber musician, Steph actively commissions new works, performs contemporary music by Black composers, and arranges African-American folk music for the marimba. Recordings of these can be found on Steph's YouTube and Soundcloud. Steph was a semi-finalist in the Southern California Marimba International Competition in 2019 and a Finalist in the Boston Conservatory Concerto Competition. They have performed and taught across the United States. As a Marimba One Artist, Steph is proud to endorse Marimba One  instruments and mallets. 
Characterized as "hauntingly beautiful" and "spine-chilling," Steph's compositions engage with Black aesthetics and are inspired by contemporary struggles for freedom. Their music, often improvisatory, soft, and texturally queer, has been performed across the United States and Canada. Steph has received commissions from Britton-René Collins, Spectrum Ensemble, Prism Percussion, Modern Marimba, Douglas Anderson School of the Arts, Marcia McCants, and Cameron Denby. 
Steph is a Teaching Artist with Castle of Our Skins and teaches marimba and percussion at Dedham School of Music and their private studio. Steph also tutors harmony & counterpoint, ear training, and time & rhythm as a Teaching Assistant in Boston Conservatory's Core Studies department. 
Steph received their B.M. in percussion performance at the Boston Conservatory, where they studied with Nancy Zeltsman and Sam Solomon. They are currently pursuing their M.M. in marimba performance at the Conservatory, studying with Nancy Zeltsman. 
Steph enjoys going on long walks around Boston, plant-based cooking, reading, and tending to house plants. Steph is the vice president of Modern Marimba and a member of the advisory council of Colorful Bridges. Steph is also the Antiracism Engagement Organizer at American Repertory Theater at Harvard.