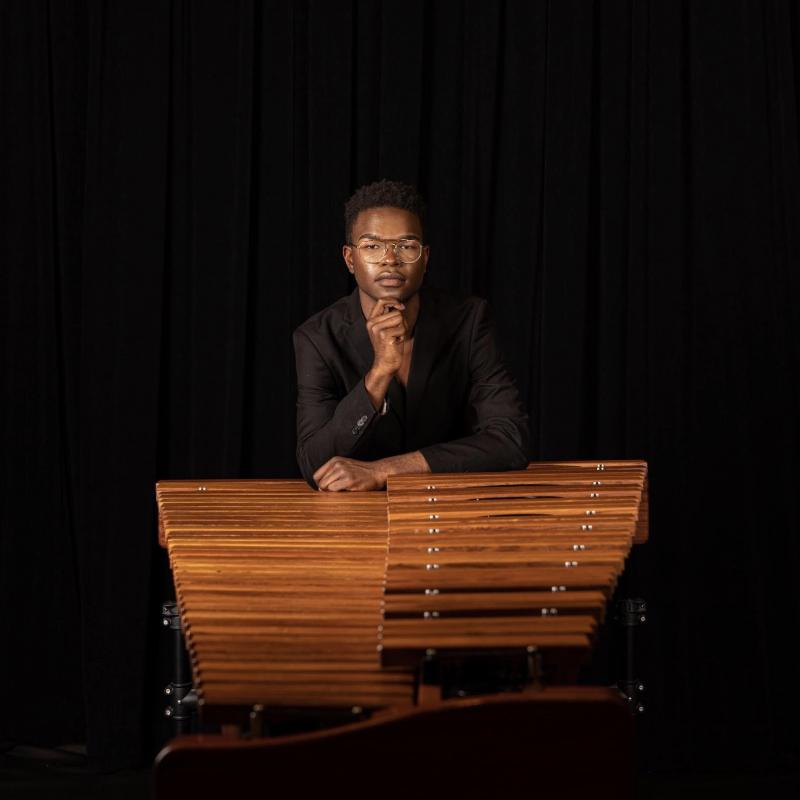 Stephon is a Boston based marimbist, composer, and cultural activist praised for their "communicative" and "sensitive" artistry. Their work explores themes of Black and Queer identity and environmental issues. They are currently completing their final year of undergraduate studies at the Boston Conservatory, where they will earn a B.M. in Percussion Performance. They study marimba and percussion with Nancy Zeltsman and Sam Solomon, in addition to composition studies with Marti Epstein.
Stephon has premiered several pieces for marimba, ranging from solo music to large chamber works. As a soloist, Stephon's repertoire choices reflect their passion for social justice, with a focus on composers from marginalized communities. They have composed and arranged pieces for solo marimba and marimba in the chamber setting, including several African-American Spirituals arranged for marimba and voice. Pierre Hurel (pianist of the acclaimed Pierre Hurel trio) has described Stephon as a "virtuosic" chamber musician who can "weave in and out of textures with ease."
Stephon was a semifinalist in the International Artist Competition hosted by Southern California Marimba, and has performed in masterclasses with Andrew Thomas, Beverly Johnston, Josh Jones, and Steven Mackey. 
Stephon composes music that explores issues of Black/Queer identity, politics, and environmental issues; and has been described as "hauntingly beautiful" and "captivating." They have been commissioned by Cameron Denby, Douglas Anderson School of the Arts, Modern Marimba, Prism Percussion, and Spectrum Ensemble.
When they're not playing or writing music, Stephon enjoys cooking (100% plant-based), tending to house plants, paddle boarding, and reading Black biographies. Stephon is the founder of So You Want to Talk About Race Book Club, a reading community of over 30 people who meet monthly to discuss books with themes of race and identity.