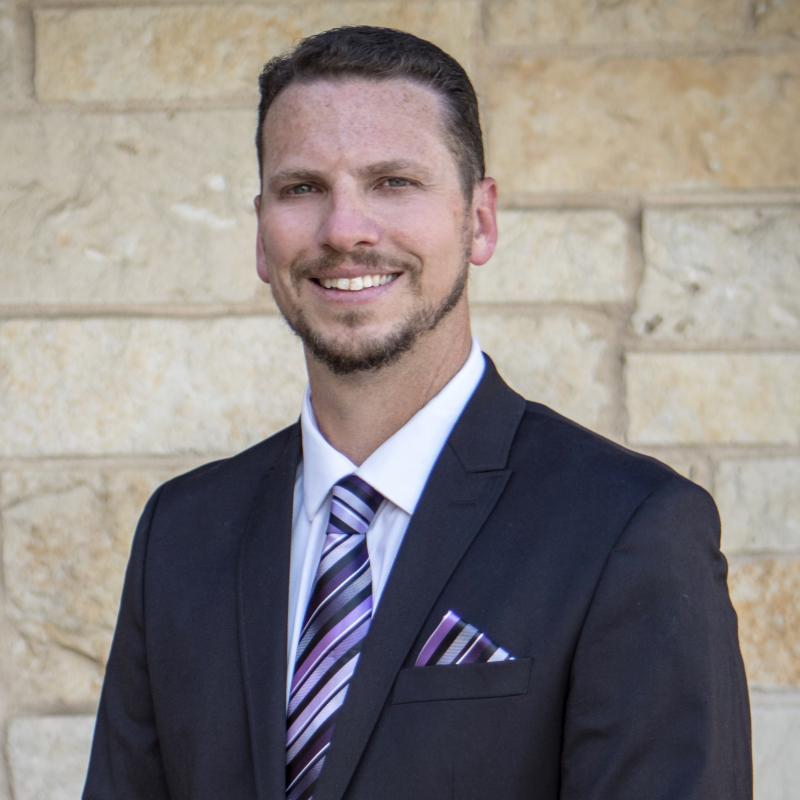 "When I first saw a Marimba One keyboard at a convention I fell in love with the appearance, the elegance of the instrument. I then saw a solo concert and the sound of the keyboard was simply amazing, blown away. That is all it took for me, I wanted one ever since. Rich, warm, focused, fundamental, round...truly what our newly purchased Marimba One sounds like, simply beautiful."
Tahlequah Kirk is currently the Director of Percussion for the Granbury Independent School District (2009-Present) where he is responsible for all students and ensembles in the percussion program including beginning, middle school, and the award-winning GHS Pirate Drum Line (PDL) and GHS Percussion Ensembles. Under the direction of Mr. Kirk, The PDL has won its category and many caption awards while competing in many drumline contests throughout north Texas, including the prestigious Lone Star Classic (2013, 2018) held at Marcus High School in Flowermound, TX. The GHS Concert Percussion Ensemble placed 2nd at the 2015 PASIC Convention in San Antonio, TX, competing in the HS Chamber Percussion Ensemble Competition. Kirk's percussion ensembles have earned 1st & 2nd in both Small and Large Ensemble categories, as well as 1st Overall, at the Tarleton State University Percussion Festival. The Granbury HS Percussion Ensemble won the PAS High School "Call for Tapes" and had the incredible honor of performing a Showcase Concert at the PASIC 2019 Convention in Indianapolis, Indiana.
Prior to accepting his position in Granbury, Kirk held the same position in Red Oak ISD and Terrell ISD where his students and ensembles were also successful at drumline and percussion ensemble contests, including sweeping all captions winning their category at the Crowley Drumline Contest.  He also held the Percussion Caption Head position for the Bluestars Drum and Bugle Corps for the 2004 DCI season.
Mr. Kirk earned a Master of Music Performance degree from Texas Christian University (2009) and has a Bachelors of Music Education degree All-Level Certificate from Midwestern State University (2000).  While at MSU he was awarded the Didzun Music Honors Instrumental Dept. Award (outstanding instrumentalist) and the Haddon Award for Outstanding Band member.  Teachers/educators through the years include Dr. Brian West, Dr. Richard Gipson, Joey Carter, Paul Rennick, Mickey Hartzog, Robert Lazenbery, Robert Poulin, Denny Jones, and Alan Black.
In addition to teaching, Tahlequah enjoys an active schedule as a clinician, adjudicator, arranger, and freelance percussionist in the Dallas/Ft. Worth area.  Mr. Kirk has performed across the United States, China, and Mexico. He was a member of the Wichita Falls Symphony Orchestra, TCU Symphony Orchestra, TCU Wind Symphony, Tarleton State University Percussion Faculty Ensembles, and was a very loyal founding member of the Lonestar Drum & Bugle Corps (7 years) as drum captain and drum major. Tahlequah was a member of a featured percussion quartet performing David Gillingham's "Concertino for Percussion and Wind Ensemble" in Carnegie Hall with the TSU Wind Ensemble. He has shared the stage with Bob Becker (NEXUS Percussion Group member), Casting Crowns, Avalon, Selah, Natalie Grant, and Denver and the Mile High Orchestra. Kirk has performed with local DFW community symphony orchestras. While attending MSU he was a member of the wind ensemble, community bands, steel bands, percussion ensembles and jazz bands. Tahlequah very proudly performed with the TCU Percussion Orchestra at the 2008 (Austin, TX) Percussive Arts International Convention after they won the PAS College percussion ensemble "Call for Tapes". 
Tahlequah's playing can be heard on the commercially-available, critically-acclaimed TCU Percussion Ensemble CD "Escape Velocity" (2009), drumset on Curt Coffey's album "Lose Myself" (2011), Gary Brumley w/Grace Community Church album "Songs of Grace" (2007), and Phil Brumley Band's EP "Listen" (2004).
Kirk has studio drumming/recording experience as the drummer for the Phil Brumley Band (CCM) working with Martin Baird at Verge Music Works (PBB, 2007), Fossil Tracks Recording Studio (2006-2009), and other local DFW artists.
Tahlequah Kirk is a proud educational artist for Innovative Percussion Sticks and Mallets and Marimba One marimbas. His professional affiliations include Percussive Arts Society, Texas Music Educators Association, and Texas Bandmasters Association.
He and his wife, Ginny, live in Ft. Worth, TX, with their twin girls Kadence and Kennadie.