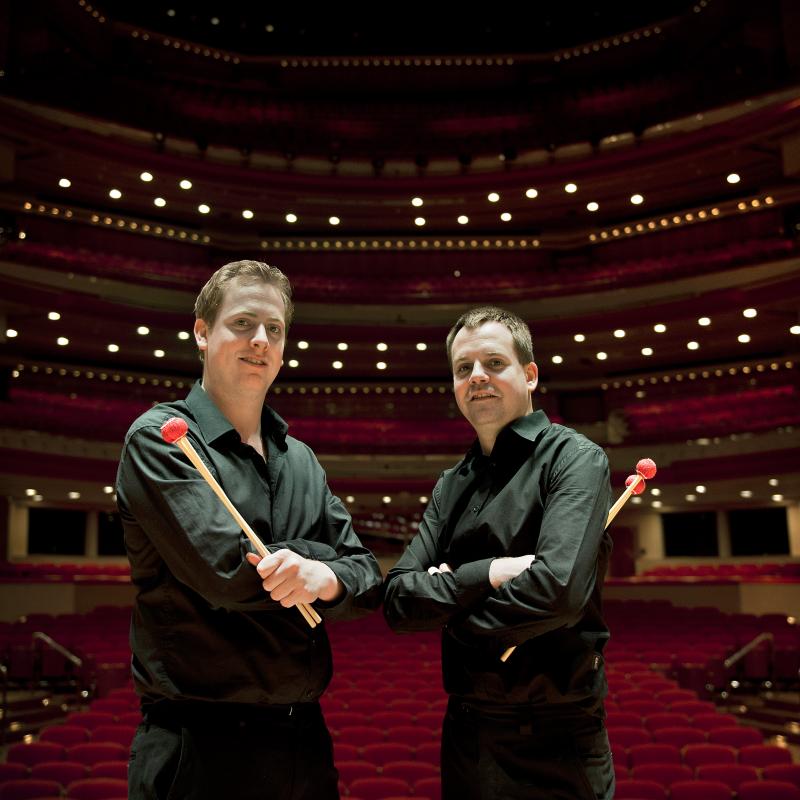 When playing together in the duo we are constantly striving to create a unified tone projecting with a single voice. It is the perfect blend of tones we can achieve with our Marimba One™ marimbas that allows us to connect fully expressing the fullest range of moods and effects. We always feel at home on our marimbas allowing us to play our best whenever and wherever!
>Maraca2 percussion duo is an ensemble that has had significant impact on the development of the genre. Known for their virtuosic and high energy performances and accessible repertoire, they have become regarded as one the World's leading percussion duos. Tim Palmer >and Jason Huxtable met whilst studying at the Royal Birmingham Conservatoire, UK, where they now teach and have been awarded prestigious Honorary Member fellowships for their contribution to music since graduation.
Maraca2 have performed at percussion festivals and concert halls across the world including a prestigious evening concert appearance at the Percussive Arts Society International Convention. The have appeared at over fifty Universities world wide delivering masterclasses, clinics and performances, continuing to regularly commission and publish new works to develop the existing repertoire. Media appearances have been diverse from live broadcasts on the BBC to appearances on television in such far flung locations as Argentina, Serbia and Texas!
Maraca2 are the directors of the World Percussion Group (WPG), an ensemble formed in 2016 to provide an international platform for the next generation of percussion talent. Their 2016 tour of the United States visited over 16 University departments to deliver concerts and clinics with the group including members from over 10 countries. WPG 2017 saw the group touring around Europe, showcasing the World's best young percussionists to audiences around the UK, Scandinavia and the Baltic states. The WPG has been featured extensively on Classic Fm's social media platforms. The WPG project will continue to inspire the next generation in 2019 with performances across the UK, Spain and Portugal.
Alongside the WPG, recent Maraca2 projects include performances at the Taiwan International Percussion Convention, Shanghai Percussion Association Festival, the Royal College of Music percussion day and the New Taipei Drum Festival.
January 2018 saw Maraca2's Debut Percussion Concerto with the Los Angeles Philharmonic conducted by Gustavo Dudamel. The Concerto commission 'Threshold' by Joseph Pereira received 3 standing ovation performances at the LA Philharmonic's home - the Walt Disney Concert Hall. This piece has subsequently been featured on KUSC Radio and the LA Philharmonic's website. Future performances include with the Singapore Symphony Orchestra in 2019.
In addition to their activity as a duo, Tim and Jason, both hold teaching posts at prestigious institutions around the UK, continuing to perform in a range of settings within a range of ensembles.