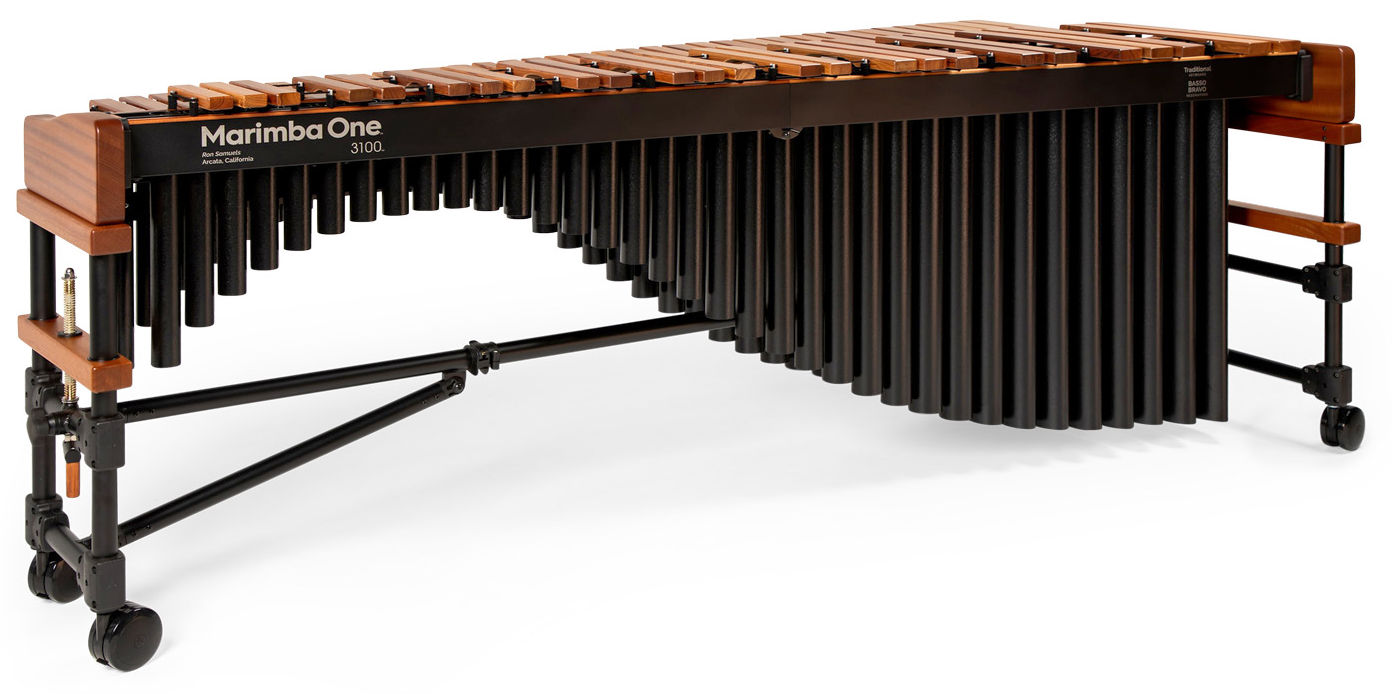 3100
The Marimba One 3100™ is by far the most rigid and durable marimba on the market. The end frames have more wood than our Izzy frame and we laser engrave tape measures into the end supports, so you always know the keyboard height.  To raise and lower the marimba, simply turn a handle at each end frame. Comes standard with our new black aluminum-and-wood rails or you can order all-wood rails for additional charge. 4-inch locking casters standard. 100% designed and built in Arcata, California.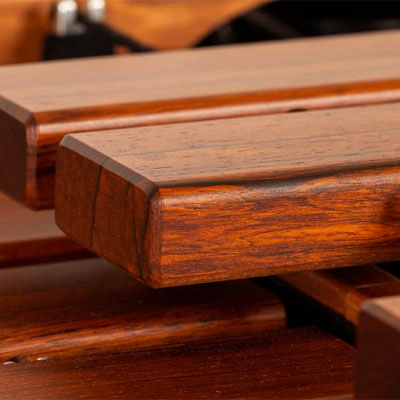 5.0 octave rosewood bars standard. 5.5 octave available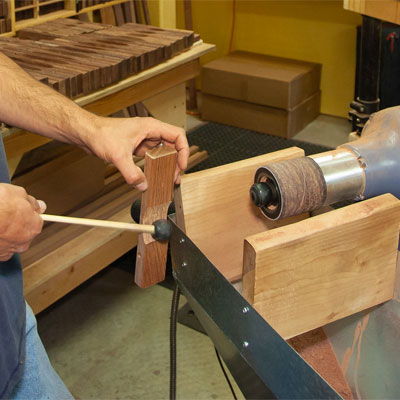 A=440, A=442, or A=443 tuning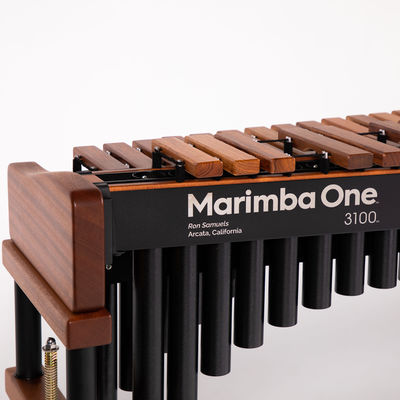 Rails are aluminum and mahogany. Cherry wood and solid wood rails available for additional charge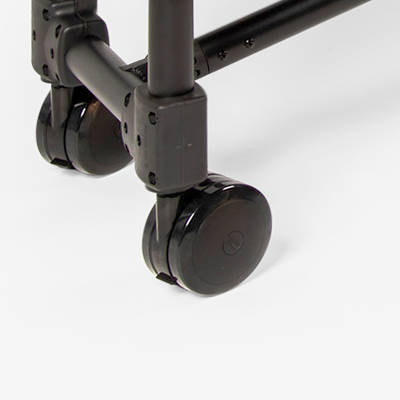 4" locking wheels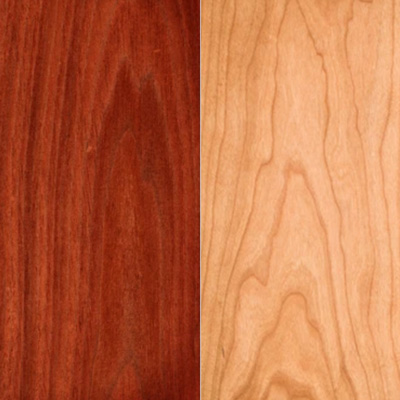 Mahogany end-frame standard (left). Cherry optional for additional charge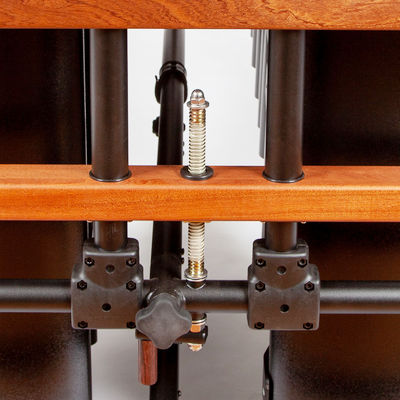 Micro-adjust precision height system with engraved measurements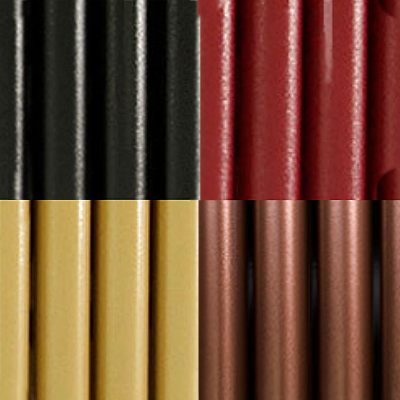 Durable black powder-coated finish resonators standard. Burgundy, Gold, and Aged Copper available for additional charge
Personalized keyboard rails available for $150. Custom laser engrave your name or school logo.New orders only
Learn about our finance options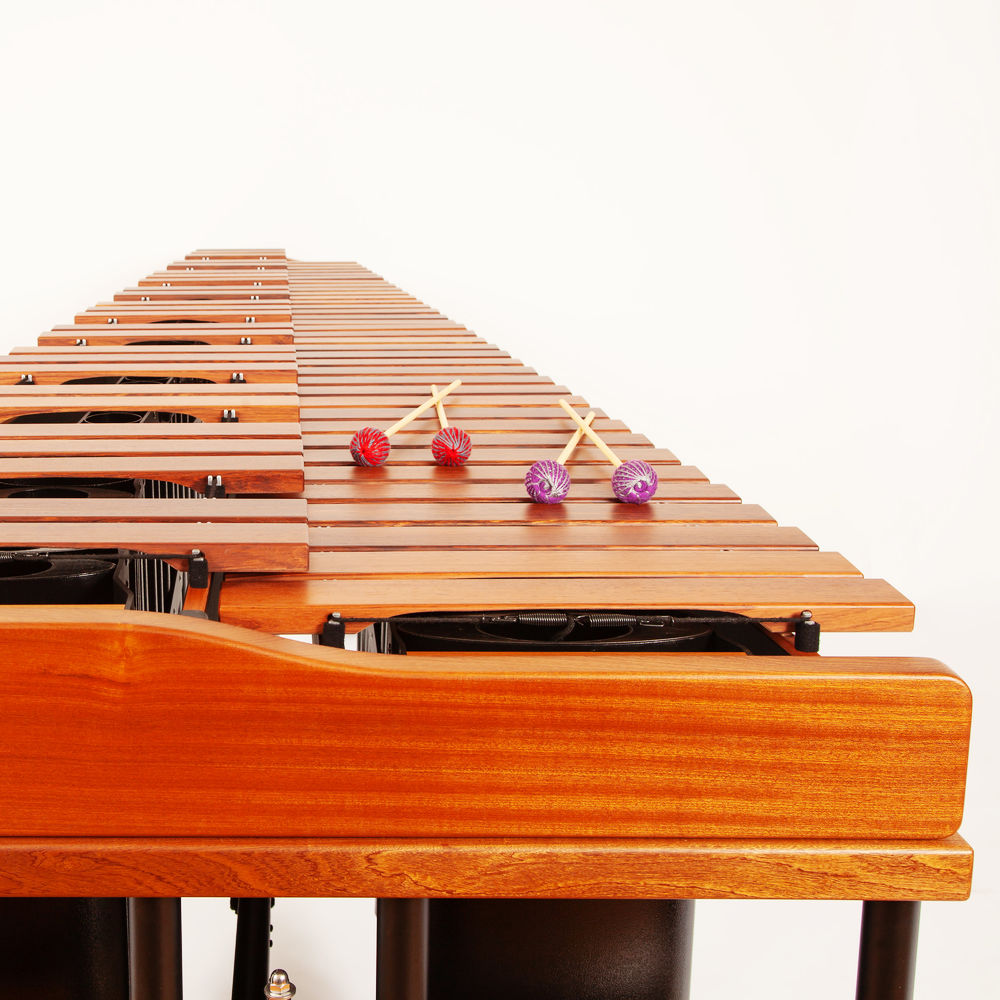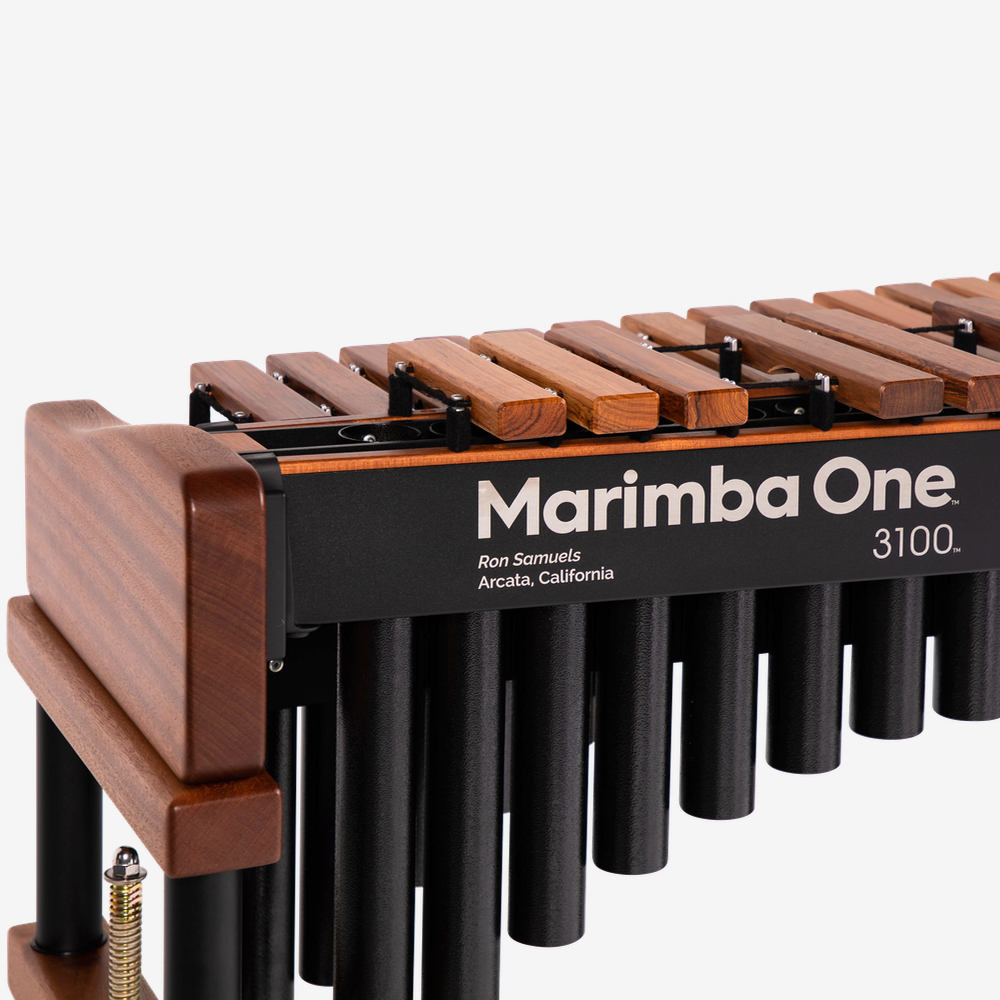 ---
MODEL NUMBERS AND DESCRIPTIONS
#9301 5.0 Octave with Classic resonators, Traditional keyboard
This model combines our original Classic resonator and Traditional keyboard to create a warm
and resonant sound. Musicians measure all other brands of marimbas against the acoustic
standard of this combination.
---
##9302 5.0 Octave with Classic resonators, Enhanced keyboard
Combine the Enhanced keyboard with our Classic resonator to extend the dynamic range of the marimba for brilliant projection in concert settings. Upgrading to our enhanced keyboard puts this marimba into an entirely new category.
---
#9303 5.0 Octave with Classic resonators, Premium keyboard
Marimbas built with our Premium keyboards and original Classic resonators are rare combinations of acoustic elements. We select the Rosewood bars of each keyboard from several thousand bars. The rich harmonics of our classic resonator voicing blends perfectly with the dynamic volume, articulation, and resonance of our Premium keyboard.
---
#9304 5.0 Octave with Basso Bravo resonators, Traditional keyboard
Our Basso Bravo resonator voicing dramatically turns up the volume on the bass end of the marimba. These resonators produce a warmer, darker, and stronger bass sound. The acoustics of this marimba are an excellent choice for any serious marimbaist.
---
#9305 5.0 Octave with Basso Bravo resonators, Enhanced keyboard
Our most popular marimba for universities, orchestras, and serious performers, this marimba produces sound that carries exceptionally well when played in ensembles and orchestras. When we combine the renowned warmth of our Basso Bravo resonator with our articulate and resonant Enhanced keyboard, it creates the most sought-after professional marimba.
---
#9306 5.0 Octave with Basso Bravo resonators, Premium keyboard
This marimba is the absolute best acoustic combination. Our legendary Basso Bravo resonator
combines seamlessly with the resonant and responsive Premium keyboard. The acoustics of
this marimba far exceed any other marimba on the planet. Even the lightest touch of the
mallets produces the richest sound possible.